Washington Co., WI – The Christmas season may be months away but this week planning began for 2020 Enchantment in the Park at Regner Park in West Bend.
Founded in 2009, the mission of the event was  "to create a holiday adventure where wonder and excitement are experienced through enchanting holiday light displays, music and other performing arts." According to organizer Lori Yahr there will be some changes this year.
"This year will be a bit different," said Yahr. "We will still have the holiday light drive thru, fire pit with marshmallows, horse-and-carriage rides, and music in the stage area."
Also new will be a 50-foot high Grinch and Snoopy characters courtesy Pet Supplies Plus in West Bend. There will also be some new vintage artwork, improved lighting and decorative pergola by the walkway entrance to the park.
In an effort to be considerate of the current CDC guidelines there will be some noticeable changes.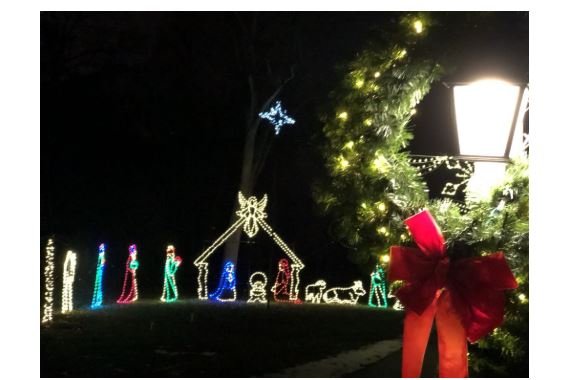 "We reached out to area school groups and they told us they are not having music classes this year so they won't be able to perform," said Yahr.
The Enchantment Board also decided not to put up the enclosed pavilion, Santa's workshop, indoor stage and for now Santa is on hold.
'We will look at our food collection procedures and see if we have to tweak anything for added safety," Yahr said.
The Senior Center will still be selling snacks in a paired down concession stand. Hot cocoa and packaged snacks will be available. They will work out of the Kiwanis Building and the volunteer groups will move to the Rotary Building.
Enchantment in the Park will be open Friday, Nov. 27 and run through Christmas Eve, Dec. 24.
Setup for Enchantment in the Park begins October 9, 2020.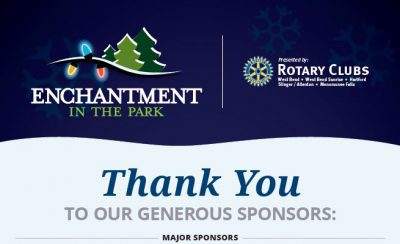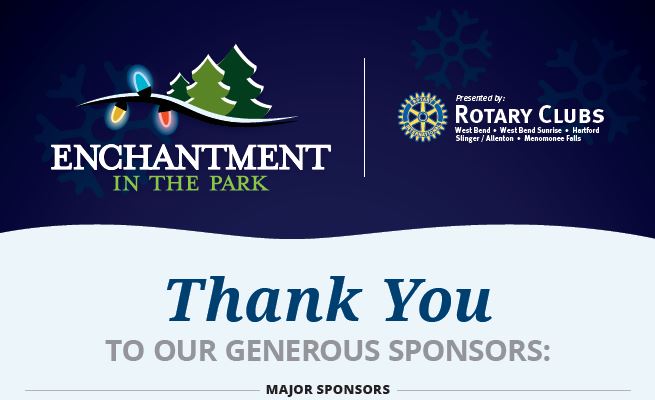 Enchantment in the Park mission
In order to accomplish this mission, Enchantment in the Park brings together many community groups and individuals in a spirit of service to design, set up, operate and take down the event every year through sponsorship and donations. Any excess funds are returned to community organizations, such as Froedtert St. Joseph's Hospital through donations or are used to help further growth of Enchantment in the Park. In addition, all collected food donations are distributed to Washington County and Menomonee Falls food pantries.

Enchantment in the Park was founded in 2009 by the Rotary Clubs of Washington County: West Bend Noon, West Bend Sunrise, Hartford and Slinger/Allenton. In 2013, the Menomonee Falls Rotary joined the leadership team. This team also consists of community members that are not associated with any of the Rotary Clubs.