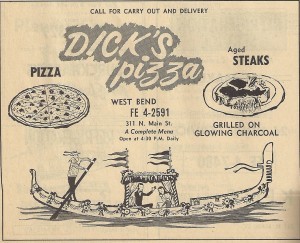 Nov. 17, 2016 – West Bend, WI – The final tie to Dick's Pizza in West Bend will be laid to rest today as the funeral for Jacqueline J. Schlicht (nee Cary, formerly Turnquist) is this evening at Holy Angels Church.
Jackie married Richard "Dick" Turnquist and together they owned and operated Dick's Pizza in downtown West Bend for many years.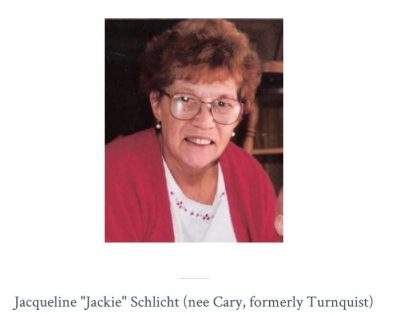 The following is some history on Dick's Pizza – comments date to 2008 article in Around the Bend.
The original Dick's Pizza dates to the 1950s when Dick Turnquist opened on north Main Street near where Tastings Food & Spirit's, currently West Bend Tap & Tavern, is located.
"In 1977 Dick Turnquist started building the new restaurant on 18th Avenue but he was killed in a car crash three weeks before even opening," said former owner Earl Richter about the crash on Paradise Drive when Turnquist swerved to avoid hitting a dog.
An employee at the restaurant, Paul Schloemer became the new owner and ran the business for three years before Dave Wolf bought the pizza place in March 1980. Twenty-one years later in December 2001 Richter bought the business.
"We really grew the sales within the first three or four years," said Richter. "My sales were probably 50 percent higher than anything they'd ever done but all of a sudden one restaurant after another started opening in this town," he said claiming there are just too many eating places for West Bend to support.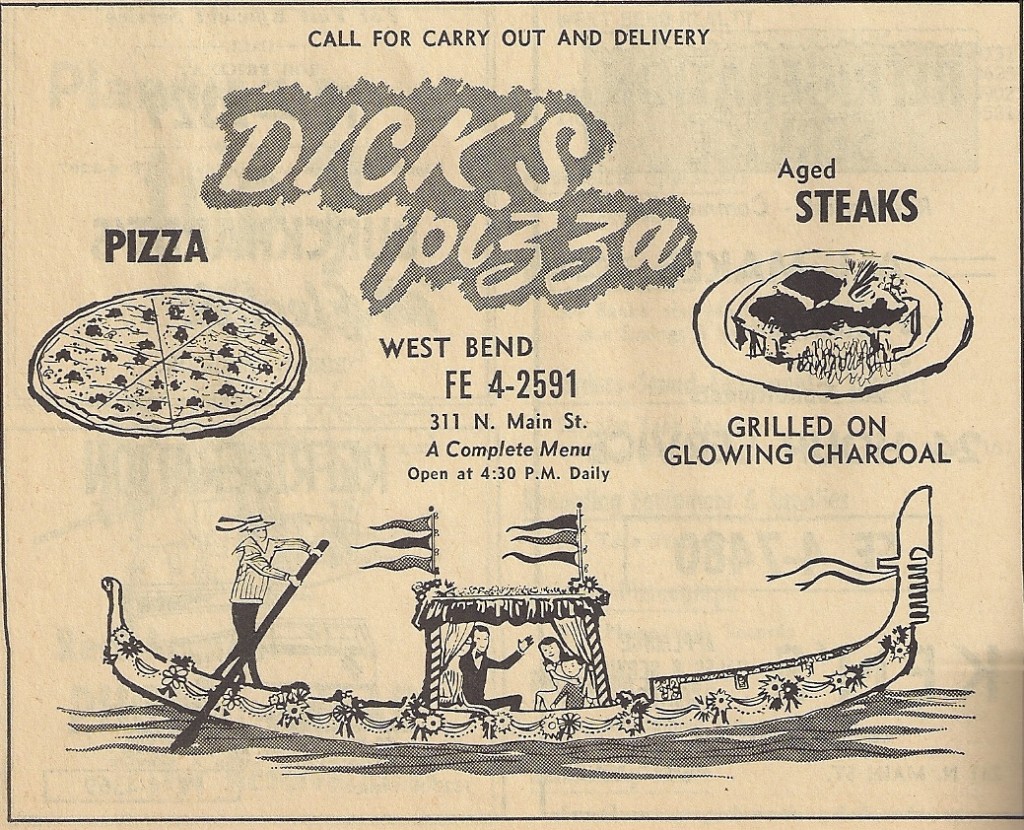 July 24, 2008 – After 50 years as an institution in West Bend's independent-restaurant community Dick's Pizza has closed. Employees were told early Thursday (July 24) that this would be their last night.
"It's just gotten to the point where it's not worth it," said owner Earl Richter who puts in 80 hours of work a week. "I'm ready to get out."
Richter has owned the Italian restaurant at the corner of 18th Avenue and Highway 33 the last five years although Dick's Pizza has a long history in the community.
"When I was little we used to go there very late and I would always order the spaghetti and fall asleep and I told my parents it was the spaghetti that would make me fall asleep," said Jodi Janisse who also remembered the 25-cent sundaes.
"That was our promotion for our 25th anniversary," said former owner Dave Wolf who remembered they had a very family-oriented business. "We supported a lot of teams like the water ski team and a lot of little league teams," said Wolf who ran the restaurant for 20 years.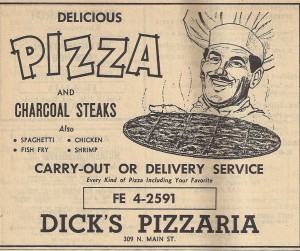 Bill Laufer grew up on Seventh Avenue and said it was always a big treat Sunday nights to go down to Dick's and get a pizza. "They were originally located downtown and then they moved to the far side of town," he said laughing. "Back in the day people were like, why are they moving way out there."
Richter rattled off a list of local restaurants that have recently met their demise including Ponderosa, Charcoal Grill, 50 States, Schultz's Whitetail Inn, Lisa's Café, Linden Inn, and there have been places bought and sold including the Mousetrap, formerly Blue Herron on the east end of Highway 33, Bagg End changed hands as did Long Branch Saloon and downtown The Grille closed where Café Soeurette opened.
"West Bend has way too many restaurants," said Richter who qualified the transition period as abnormal. "I've never seen a town with this many restaurants versus the population."
SEVERAL FACTORS HURT BUSINESS…
Several factors led to Richter's decision to close including gas prices, the economy, and additional competition. "It kicked you a little bit but it wasn't anything you couldn't survive, we just weren't as profitable," said Richter noting there have been 24 new restaurants opened in West Bend the last few years.
Aside from more choices for the community, Richter said the increase in the price of gas hurt him. "We were flat with profits last year, but when gas hit $4 a gallon our business dropped 20% just like that," he said also blaming the rumor about a Walgreen buying up his corner at 18th Avenue.
"That hurt me with all the talk and all the rumors and it destroyed my gift certificate sales last year especially during Christmas." Richter confirmed the national drug store chain was looking at buying and building on the northeast corner however he claimed there was never an offer on the table.
In January however, First Weber Real Estate agent Bink Steinbach said a Chicago developer actually pulled their offer claiming the redevelopment of the site "was getting too expensive." Steinbach, the former owner of the Binkery was one of three properties along with Dick's Pizza that would have been sold for the development.
Richter made it clear, he was simply closing the restaurant. "I'm not going bankrupt or anything. I thought about selling but there's not a lot of interest right now." Richter and a partner own the building which will be for sale shortly. An auction is set for early August.
– – – – –
As we look for memories for Dick's Pizza we'll kick start the process by sharing some past posts from You Know You Are From West Bend  – a page run by administrator Terry Becker on Facebook.
Steve Schommer Dicks pizza, best broasted chicken in the damn world!
Don't think we ever had pizza there in all the years it was opened! Loved their ice cream scoop of butter, small loaves of bread and the 3 choices of dressing.
Robyn Homuth Hutchins I worked at the "new" Dick's on 33 & 18th….a Walgreens now….We served those little loaves of bread & the scoop of butter with every meal….Good Eating !!
Laurie Kraemer
My mom like to order the pizza AND the chicken and fries when family or friends were over on a Saturday night.
Advertisement pictures courtesy Steve Kissinger
Nov. 11, 2016 – West Bend, WI – Jacqueline J. Schlicht (nee Cary, formerly Turnquist) age 77 of West Bend died Wednesday, November 9, 2016 at Ivy Manor in West Bend. She was born February 11, 1939 in Milwaukee to William and Rose (nee Collins) Cary.
Jackie married Richard "Dick" Turnquist on October 31, 1959 at Holy Assumption Catholic Church in Milwaukee and together they owned and operated Dick's Pizza in downtown West Bend for many years. Dick preceded her in death in 1977.
On July 17, 1982 she married James Schlicht at St. Frances Cabrini Church. Together they enjoyed weekend camping trips and could be seen regularly at a Friday night fish fry. He preceded her in death in 1992.
Jackie enjoyed traveling, playing bingo, theater, and horse racing. She was also Scout leader when the girls were young. In her later years, she enjoyed the company of her Red Hatter groups. She was proud of her family and loved spending time with her children and grandchildren.
Jackie is survived by her 5 children: Kris (Jim) Bartley of La Crosse, Kaye (Rick) Nannetti of West Bend, Kelly (Tim) Erickson of Germantown, Mike Schlicht of Chicago and Katie (Mike) Veith of Fremont and 7 grandchildren: Alex and John Nannetti, Nathan and Michael Bartley, Cole and Jaime Erickson and Brooke Veith. She is further survived by her brother Gene (Coyle) Cary of Florida and nieces, nephews and other relatives and friends.
In addition to Dick and Jim, she is preceded in death by her parents William and Rose Cary, three sisters, Delores, Charlotte, and Margie, and one brother, Bill.
A Memorial Mass of Christian Burial will be held Thursday, November 17, 2016 at 5:30 p.m. at Holy Angels Catholic Church with Rev. Patrick Heppe presiding. Inurnment will take place in Washington County Memorial Park. The family will greet visitors on Thursday at the church from 4:00 p.m. until 5:15 p.m. In lieu of flowers memorials to the Washington County Humane Society or the West Bend Community Memorial Library are appreciated.
The Schmidt Funeral Home in West Bend is serving the family.