Family safe after fire races through home on Indiana Avenue in West Bend
Dec. 2, 2016 – West Bend, WI – A family of 3 and their 3 animals escaped a fast-moving fire that totaled their home Friday night at 753 S. Indiana Avenue in West Bend.
Lisa Haubrich lived in the home with her mother in law and her girlfriend 24-year-old Christina Doerr.  They spoke during a one-on-one interview as the girls met with the Red Cross at McDonald's on S. Main Street.
Haubrich, 30, said she had just left to go to the gas station around 6:30 p.m. Friday and when she got home she saw the flames.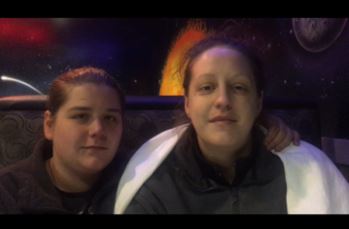 "We went to Deli Food Express and we were only gone about 10 minutes and when we got back and pulled in the driveway I was like we don't have Christmas lights and then I saw the house was on fire," said Haubrich.
Doerr's mother was in the backyard with a dog and cat; the other dog, Molly, was stuck in the house.
"I walked in and it was really smoky and there were high flames. Christina walked in because she had to get her dog," said Haubrich.
The dog was alive, they found it in the basement.
The official cause of the fire has yet to be determined, however Haubrich said they saw smoke in a back bedroom. "It smelled like an electrical fire," she said. "Christina smelled the smoke and she opened up the door and smoke was coming out of the vent."
West Bend firefighters were on scene quickly.  "The firefighters were there right away; they were awesome and really souped up," said Haubrich.
The Red Cross is working with the family to find accommodations. Haubrich said she will be headed back to Children's Hospital to take care of her baby. The child was not home at the time of the fire.
The Washington County Humane Society is helping care for the animals.
The amount of damage has yet to be determined. Haubrich said they had all moved in last December and were renting the home.
West Bend police and firefighters were still on scene at 9:30 p.m. The road was partially shut down just south of Pennsylvania Avenue, which is north of Decorah Road by Good Shepherd Lutheran Church.
Fire photos courtesy Robert Nehrbass.