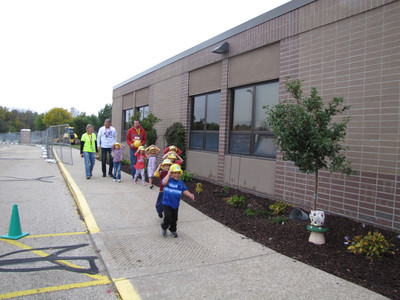 About 380 students from Allenton Elementary School were evacuated and bused to Slinger High School today after the fire alarm sounded this morning.
Early word is a faulty sensor was to blame and there was no actual danger at the school.
Arrangements are being made to return students to the school.
Officials in the District Office said parents were notified via email and text message.
According to the school: The initial email was sent out to our district families via our student information system, and our emergency call out system.  The emergency call out system sends a voice mail to their phones as well as an email:
This morning the fire alarm went off at Allenton Elementary.  This was not a drill, and the cause of the alarm is being investigated.  All students were safely escorted from the building and boarded buses awaiting the all clear from the fire department.  The buses have now delivered the students to Slinger High School while we wait for the all clear.  Students will be fed lunch at Slinger High School.  4K AM students who are normally picked up by parents will need to pick up their child at the district office at the normal time.  The address for district office is 207 Polk Street, Slinger, WI.  4K PM classes have been cancelled.
We will continue to update you as the issue is resolved and all students are back to their normal routine.
If you need to contact us, please call 262-629-5546 and your call will be forwarded to our district staff.
The issue at Allenton has been resolved.  The students will be eating lunch shortly at Slinger High School, and then at 12:15 they will board the buses back to Allenton.  The rest of the day will proceed as usual.  We will have another update later in the day from the Superintendent.  Thank you to all of our students, staff, and families who helped to make this a smooth response to that unexpected issue.
Thank you!
Angie Wickus, Principal
Thank you.
Daren Sievers, District Superintendent
The followup (all clear) was sent using our student information system.
As of 11:45 a.m. students from Allenton Elementary had watched the Slinger High School marching band practice and they were having lunch before being returned to school.
Photo courtesy Allenton Elementary School.