Fillmore Fire Department awards banquet. Check out who was recognized as First Responder and Firefighter of the Year By Bob Bonenfant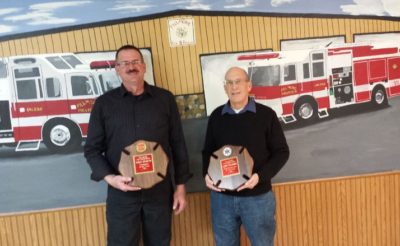 Jan. 16, 2017 – Fillmore, WI –  The Fillmore Fire Department held its annual awards banquet Saturday night at the Fillmore Fire Hall.
Every year the department gathers to honor members and hand out a number of prestigious awards.
A social hour was followed by dinner catered by Eden Meat Market.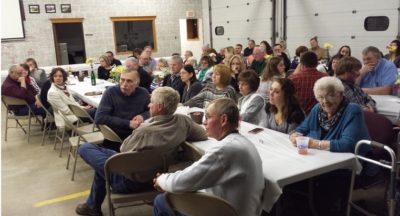 Chief Jeff Steinert then gave his report of the departments 2016 activity which included 19 fire calls, one structure fire, two vehicle accidents and 35 EMS calls.
A number of members were honored for years of service: Jake Guttman, DJ Neumann and Eric Spaeth received 10 year service certificates, Duane Taylor was recognized for 20 years and Jeff Steinert honored for 25 years of service.
Larry Polanske was the recipient of the First Responder Of The Year plaque.
Dale Spaeth was honored as Firefighter Of The Year and Judy Spaeth was recognized as Social Member Of The Year, an award given to an individual who lends a hand in any way to help the department.