Final game for UWM at Washington County volleyball program | By Kirsten DeLuka, Riley McGrew and Mykayla Thimm
October 25, 2019 – Washington Co., WI – The Wildcats of UWM-Washington County played in their last Wisconsin Collegiate Conference Tournament earning a respectful runner-up trophy.
The Lady Wildcats started the tournament ranked second and had to play back-to-back matches.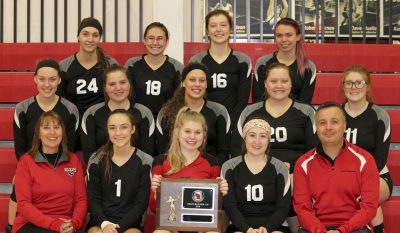 "We worked hard and played hard," said coach Deb Butschlick. "Our first match against UWGB – Sheboygan split the match 19-25, 25-15. The second match was against UW-Platteville – Richland winning 25-13, 25-19.  Our hard work payed off when we finished Saturday 3-1. That gave us confidence and motivation for Sunday's games."
Day two of the State volleyball tournament started with an exciting match again No. 1 ranked UW Eau Claire – Barron. A win would determine who would head to the semi-finals.
With excited players, good energy, and communication the Wildcats won its first match 25-21, 25-8. The team advanced to the semi-finals.
UWM at Washington County played UWO-Fox Cities in a tough semifinals match, winning 25-14, 23-25, 15-8. The victory advanced the Wildcats to the finals.
After many games of hard work this weekend, UWM at Washington County made it to the championship game.  "We went up against UWGB – Marinette in the finals match.  We played hard and with every ounce of power," said Butschlick.  "We worked just on the fundamentals of volleyball so we could focus more on playing together as a team and having fun.  A lot of tears and sweat were shed in the end, losing 17-25, 17-25.
"We may not have come in first place, but overall as a team we have come a long way."
Leading the tournament was
            Morgan Kappler with 36 kills, 9 ace serves and 90 digs
            Caryn Hamm with 107 assists for kills
            Catrin Homuth with 22 kills and 9 blocks
            Grace Vogel with 57 digs