Final results from Washington County Fair Truck and Tractor Pull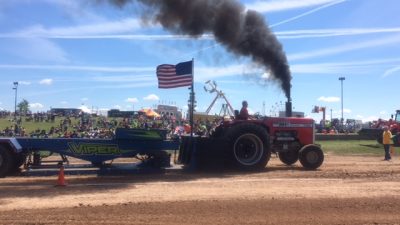 July 31, 2017 – Washington Co., WI – The crowd on the hill soaked up the sun on the final day of the Washington County Fair and watched some mighty tractors – antiques and John Deere's and Gehl's – pour black smoke and chew up the track during the annual Truck and Tractor Pull.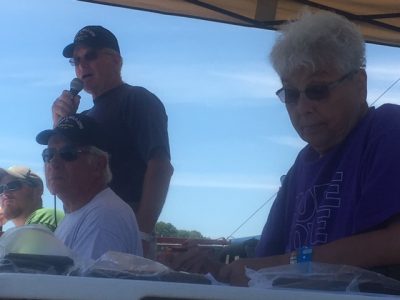 Bill Hinckley and his team oversaw the show. "We had 74 hooks on the antique tractors that lasted a little over 2.5 hours and the truck and tractor pull for the second show was a 2.5 show," said Hinckley. "There were more people watching the second show than the first but there was also more noise and smoke."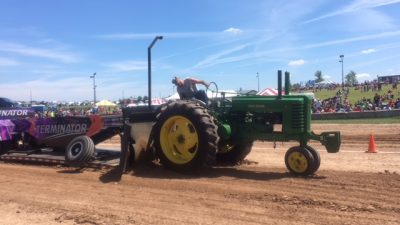 Two trucks had to be pulled from the track due to a broken drive train. All in all it was a very good show.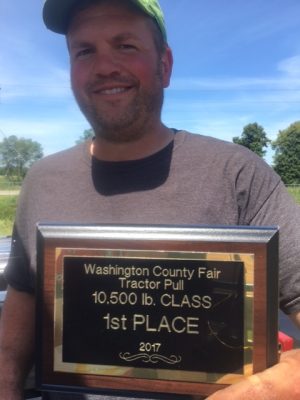 Ryan Kison of Cedarburg took 1st place in the 10,500 pound Class with a distance of 217.35.
Dan Peters of West Bend took 1st place with his Oliver 77 in the AA Antique 4,500 pound Class with a distance of 96.62.
Jeremy Schema of Kiel finished in 1st place with his IH 756 and a pull of 324.09 in the Class D 12,000 pound non-turbo.
Bob Schnell of St. Nazianz finished first with a pull of 330.45 in the Class E 13,500 non-turbo.
Still waiting on final results from the second show.
On a side note: Bill Hinckley surprised himself with the singing of the National Anthem. "I think I did a better job on the National Anthem at the second show due to not planning on singing the first show due to a person's phone wasn't loud enough and I just jumped in and sang it."