September 27, 2020 – Town of Wayne, WI – A dire house fire over the weekend in the Town of Wayne went from bad to worse. On Saturday, September 19, 2020 at approximately 10:38 p.m. a dozen fire departments responded to a house on fire at 9115 Woodlawn Drive.
After the fire was extinguished the Washington County Sheriff shared photos of the damage. See video below. But then on Sunday the logs in the home that dates to 1902 held in so much heat the fire started again. Firefighters bought in an excavator and leveled the historic home.
On Monday, he stood in the middle of the charred remains. "I had just finished remodeling a couple rooms," he said.
Ziegelbauer, 29, was at a loss.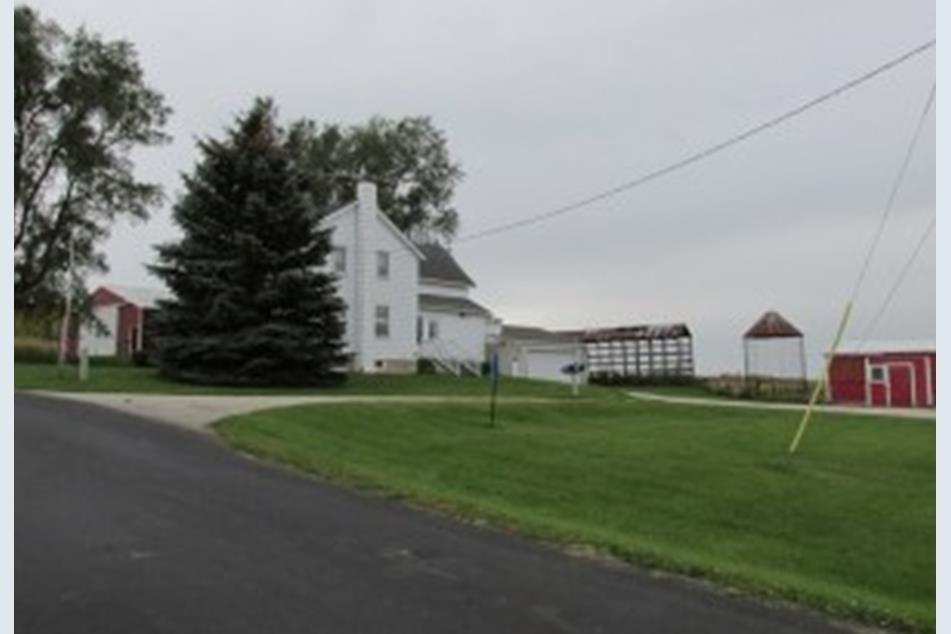 The two-story had once been home to Orville and Ruth Kern. They owned it from 1948 until 2006.
"We bought the property when we got married," said Ruth. "We bought it for $700. We used every bit of money we had."
Ruth, who now lives in Kewaskum, farmed the land with her husband and raised six children.
"The kids had this painted for me," said Ruth about the picture of the old homestead. "The log home has been cleaned up a bit. This is when it had windows added and we had a man name Muckerheide level off the front yard."
Ruth met Orville at a bar. "I was with somebody else," she said. "They introduced us and he asked me out. We dated for a year and a half and then got married. I was 19 years old."
"Orville was so kindhearted, a wonderful guy. He was town clerk for 25 years," she said.
Ruth and Orville worked hard and spruced the place up when they could afford it.
"Our windowsills were really deep," said Ruth holding her hands more than a foot apart. "Everybody envied it. We remodeled the whole thing… little by little."
Orville built a new outhouse and then added plumbing. "My husband dug a well by hand; we didn't have running water. The first thing we did was build a toilet and then when we had money we put in hot water."
"We had a wood heater and that pipe from the wood heater would heat the living room too," she said. "We wallpapered the upstairs because the plaster was bad. Even when I sold the place the real estate agent said that was pretty wallpaper."
"I worked for George Hess, personnel manager at West Bend Aluminum Company. I worked there until we got married and then my husband didn't want me to work because he said it didn't work when we live on the farm but we sure could have used the money."
The Kerns lost their first child, a girl, when she was 20 weeks old. "She had a heart condition," said Ruth. "After that we had three girls and three boys."
Ruth recalled the good times and bad on Woodlawn Drive. The ice storm from 1976 when the fire department brought a generator so the milk wouldn't freeze. "We bought seven cows," said Ruth.  "Our cash crops where made a lot of money were sweet corn, field corn and peas," she said.
Ruth had little to say regarding her former home and the fire.
Ziegelbauer said he was happy nobody was hurt. Click HERE if you would like to reach out and help Mike.