Fire damages condo complex in West Bend | By West Bend Fire Department
July 26, 2019 – West Bend, WI – At 1:21 a.m. the West Bend Fire Department responded to a working structure fire at a six-unit condominium complex in the 1900 block of N. River Drive in the City of West Bend.
MABAS Division 111 box card 15-1-1 was activated and the fire was quickly upgraded to the second box alarm level. The six unit condominium building did not have a fire sprinkler system or a fire alarm system.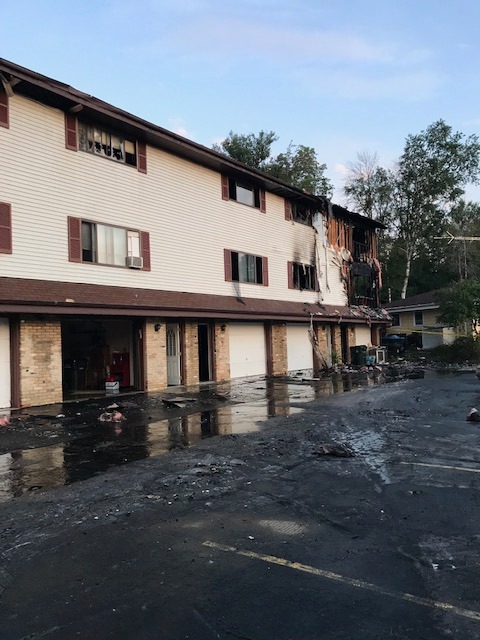 Mutual aid was provided by:
Hartford Fire Department
All occupants of the complex were evacuated safely. The Red Cross is assisting the families. The cause of the fire is under investigation.
According to State Statute 101.145: the owner of a building put in smoke detectors and the occupant maintains the smoke detector.
If maintained by the building owner that person has five days to make it functional and a $50 fine each day until it's fixed.
According to the fire department with regard to the sprinkler and fire alarms – that building was built before those codes were in place and required.
Building is a condo and there are six separate owners. It was up to the condo owners to have the smoke detectors.
WB Fire Department returning at 3 p.m. so owners can get personal items.
Cause of fire remains under investigation
Photos courtesy West Bend Fire Department.