Fire damages home in Mt. Calvary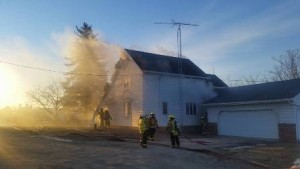 Fire damaged a home in Mt. Calvary Friday morning.
Fond du Lac County Sheriff's Captain Rick Olig said a passerby called in the fire at 6:36 a.m. The house at N8568 County Highway G was being remodeled and wasn't occupied when the blaze started.
Olig said fire officials reported there was a lot of smoke damage to the home, but not a lot of fire damage.