July 3, 2019 – Town of Addison, WI – Early this morning Washington County Deputies arrested three individuals for felony theft after nearly a 15-mile pursuit that ended in a minor motor vehicle crash.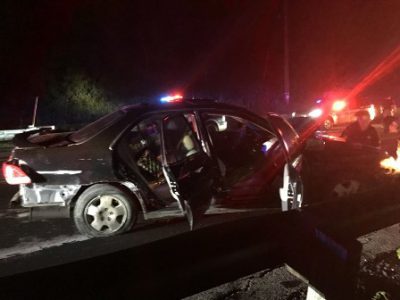 At 12:22 a.m. an employee of Phantom Fireworks, located at 6711 CTH W in the Town of Addison, reported the theft of a large amount of fireworks by three suspects. The investigation later determined all three of the suspects entered the store together when the 18-year-old Madison woman faked an injury to gain the attention of staff.  At that point the two other suspects, a 19-year-old man and a 31-year-old man, both of Madison, removed carts of merchandise from the store.
A deputy was able to locate the suspect vehicle in the area of CTH W and CTH D in the Town of Wayne. The vehicle immediately fled eastbound on CTH D to US 45 at speeds in excess of 100 miles per hour. The vehicle continued to flee northbound on US 45 into the southern portion of the Village of Kewaskum where the driver turned onto Prospect Drive.  The pursuit continued to Badger Road and then south on Kettleview Drive. Deputies were able to deploy tire deflation devices on Kettleveiw Drive and the vehicle subsequently crashed into a guardrail after failing to stop for the stop sign at Kettleveiw Drive and CTH D.
The two passengers were then immediately taken into custody. The operator fled on foot and was taken into custody shortly thereafter when he was located hiding nearby.  All three subjects complained of injuries and were transported for medical treatment before being transferred to jail. All three remain in custody for felony theft, and the driver will face additional driving related charges.  Nearly $2700 worth of stolen fireworks were recovered in the vehicle.
Pursuits are inherently dangerous for suspects, law enforcement and innocent citizens.  It is the policy of this agency to ensure the emergency operation of police vehicles is done in a manner that provides a reasonable amount of safety to all individuals listed above.  We have policy considerations that require officers to balance the necessity for pursuit against the probability and severity of damage or injury.   Officers consider factors such as the time of day, road and traffic conditions, weather conditions, pedestrians, speeds involved and the nature of the incident. The Sheriff's Office also has supervision working 24/7 who monitor incidents such as this. They will order the termination of the pursuit if, in their opinion, the dangers created outweigh the need for immediate apprehension.
Philosophically it is a careful balance for law enforcement.  We strive to be as careful as possible, but it is also extremely important that criminals are held accountable for victimizing the citizens we serve.