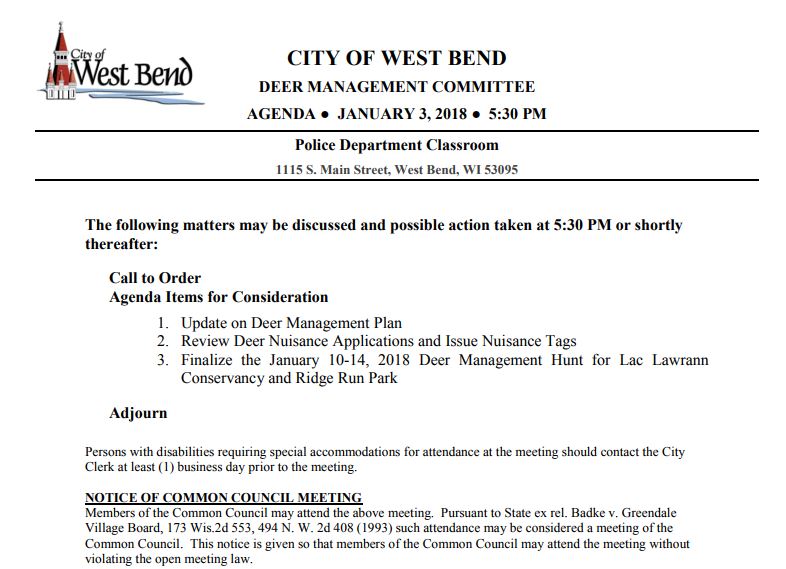 Dec. 30, 2017 – West Bend, WI –  A Deer Management Committee meeting is set for Wednesday, Jan. 3 at 5:30 p.m.
There were nine bow hunters who participated in the proficiency test and bow hunter exam. The step was part of the process to take part in the public deer hunt set for Jan. 10-14, 2018.
Five hunters passed with a perfect score including Steven Kraker, Brad Zuba, Jeffrey G. Bach and Brad Beck. Following a background check the hunters will be issued nuisance tags.
The city is working with people in the community to try to trim the local deer herd by about 40 bucks and does.
Click HERE to see how you would do on the Bow Hunter Exam.
City clerk Stephanie Justman said the committee will determine how to move forward with fewer hunters. "There were four districts/zones outlined for the hunt at Lac Lawrann Conservancy and five districts/zones at Ridge Run Park," she said.
The hunters had to pay $30 to take part in the test.
City administrator Jay Shambeau said the zones may be redesigned to help accommodate the hunters. "The individuals that tested were excited about taking part in the process," Shambeau said.
The deer taken during the hunt will be donated to local food pantries. Hunters participating in the deer management will get to keep one deer.
Shambeau said the DNR will likely cover the cost of processing the deer. He said the expense will not be covered by the hunter nor the city.
Click HERE to see the Deer Management Information Packet.