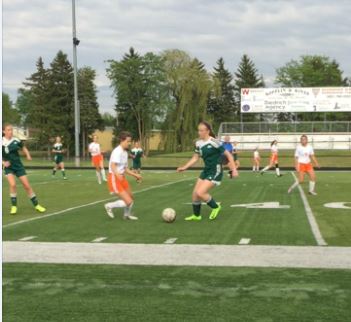 May 27, 2017 – Jackson, WI – Kettle Moraine Lutheran faced Ripon High School in Kettle's last conference game of the season.
Kettle started off the game with strong passes and quick movement, resulting in a goal in the third minute by senior wing Abby Malchow.
Kettle continued to push towards Ripon's goal and scored another two times, once by junior forward Rhaea Lehman and the other time by sophomore defensive midfielder Abigail Washburn.
Kettle continued to play strong as Ripon came back to the field ready to win the game.
Kettle continued its scoring streak and scored two more goals in the second half, one by junior forward Caitlyn Kaelberer and the other by sophomore attacking midfielder Megan Sina.
The final score of the game was 5-0 with Kettle taking home the last conference win.
Kettle's next game is Thursday, June 1 at home against Heritage Christian.
This game will kick off the WIAA State tournament.