January 21, 2021 – West Bend, WI – Franklin J "Frank" Mrazik, 94, left this world but not our hearts on January 14, 2021.  He was born July 12, 1926 to Frank and Agnes (Fechter) Mrazik on their farm in Myra, Wisconsin.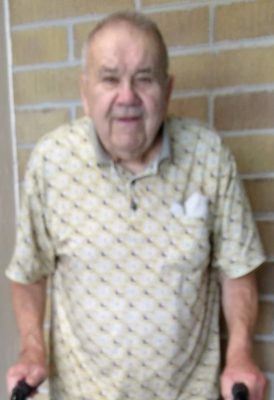 He served in World War II from 1944-1946.  After serving his country in the United States Army, he married Florence "Red" Kolbach on October 7, 1950, at St Mary's Catholic Church in Port Washington, Wisconsin.  They had five children and were happily married for 29 years, before losing Red to cancer in 1979.
Frank was part-owner of the Mrazik/Wagner Garage, he worked at International Harvester, Cedarburg Dairy, and Ideal Plumbing, having an early retirement in 1984.
He is survived by his children, Michael (partner Jimmy Lee), Alice (Karl) Johanen, Richard (friend Sylvia), David (partner Robert), and Jane (Ralph) Bauer; 6 grandchildren, Christopher (Cara) Mrazik, Andrea (Richard) Neault, Jaime (Cory) LeFever, Brett (Rachel) Johanen, Jessica (JR Fry) Bauer, and Ashley (Kody) Aulenbacher; 12 great-grandchildren, Stella and Quinn Mrazik, Ayla and Pierce Neault, Levi and Logan LeFever, Brycen and Boden Johanen, Prudence and Penelope Fry, and Jayce and Myles Aulenbacher.
He leaves behind his family, significant other, Delores "Dee" Kilby; her 4 children, Debra "Debbi" Myrhum, Dorine "Dori" (Dean) Hagstrom, Dawn (Michael) Petri, and Denell (Mike Katchever) Staral; and Dee's grandchildren.
Frank is further survived by sisters-in-law, Rosalia "Sally" (the late Lawrence) Feyereisen and Joan (the late Edward) Fechter; brother-in-law, Donald (the late Midge) Kolbach; along with many nieces, nephews, and close friends.
Frank was preceded in death by his wife, Red Mrazik; five siblings, Dorothy (Clem) Ansay, Gilbert (Dorothy) Mrazik, Kathryn (Edward) Furger, Rita (Willard) Schwinn, and James Mrazik; Red's siblings, Marie (Norbert) Lemanczyk, Henry "Hank" (Doris) Kolbach, Esther (Bud) Pulvermacher, Dorothy "Dolly" (Ted) Glowacki, and George (Evelyn) Kolbach.
Mass of Christian Burial for Frank will be held at 11:45 a.m. on Thursday, January 21, 2021 at Holy Trinity Catholic Church (521 Congress Dr – Newburg, WI  53060) with Rev. Richard Stoffel officiating.  The service will be livestreamed HERE.
Frank's family will greet relatives and friends at church on Thursday from 10:30 a.m. to 11:30 a.m.
Frank's family extends its heartfelt appreciation to Dr. Renee Jahnke, and the staff at Aurora Medical Center in Grafton and St Luke's Medical Center in Milwaukee for the compassionate care they provided.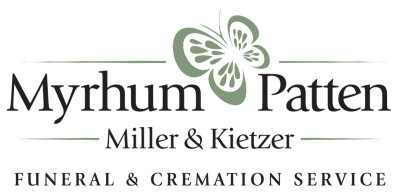 Please consider signing our online guest book (www.myrhum-patten.com) to share your condolences with the family. Cards addressed to the family may be sent in care of:  Myrhum – Patten Funeral and Cremation Service, 1315 W Washington Street, West Bend, WI 53095.
Myrhum-Patten Funeral & Cremation Service has been entrusted with Frank's arrangements.