January 15, 2021 – West Bend, WI – A note to relay the news of the death of WWII veteran Frank Mrazik of West Bend. In 2011 Mrazik went on the Stars and Stripes Honor Flight.  Below is an article that appeared in Around the Bend detailing Mrazik's service to his country.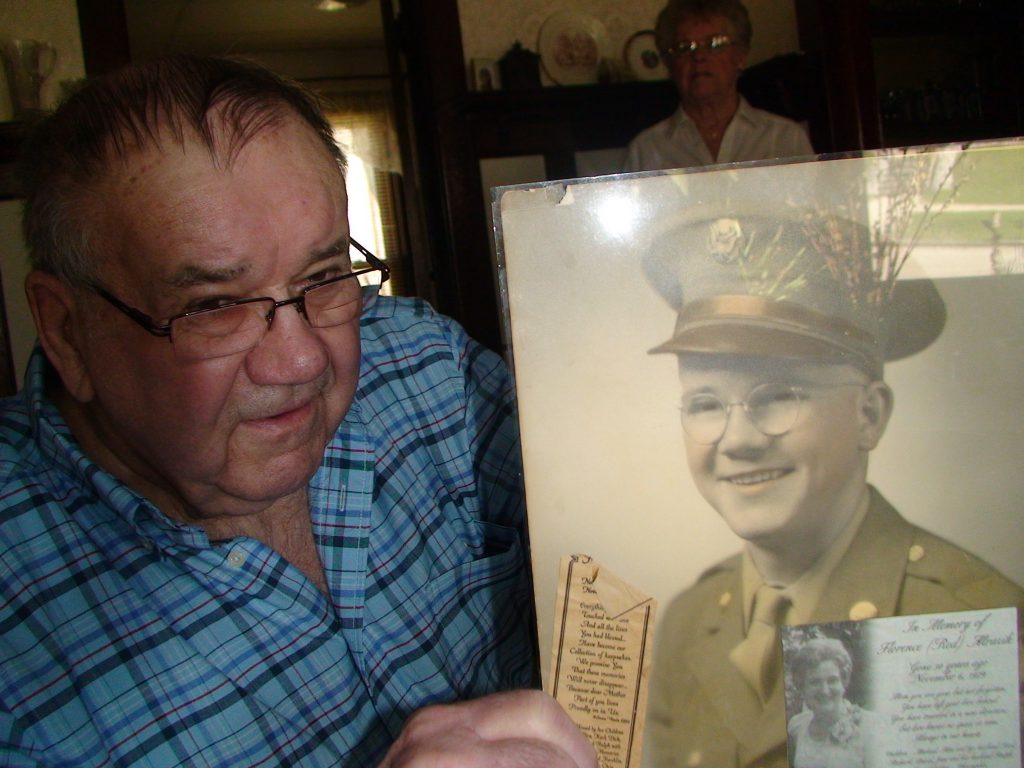 Frankie Mrazik of West Bend will be among the 90 WWII veterans scheduled to fly to Washington D.C. on the May 14, 2011 Stars and Stripes Honor Flight.
The Honor Flight is a volunteer effort to transport World War II veterans to the memorial that stands in their honor.
Mrazik, 84, was born on a farm in Myra, went to West Bend High School (the old Badger) and was drafted into the Army when he was 18 years old.
That was Nov. 1944 and for the next two years Mrazik served his country traveling from Fort Knox, Kentucky, went to Camp Kilmer, New Jersey and then received orders to ship out to Germany.
With the war coming to an end, Private First Class Mrazik said his orders changed and he soon found himself on a ship headed from Fort Ord, California to the Philippines.
"We hit a hell of a typhoon going over," said Mrazik. "The hatches were closed and chains broke on the tanks and equipment in the hole and they were banging and we thought they'd come out the sides. It was scary."
Mrazik said it was "30 days of stink" before they made it to the Philippines.
Although the fighting was dying down, Mrazik said there was still some action coming out of the bush. "You could hear the snipers up in the hills and we had tents and bullets would go whizzing through the top; couple of guys got hit but nobody got killed," he said.
From there, Mrazik received orders to go to Hiroshima, Japan. It was two weeks after the atomic bomb had been dropped.
"Everything was still smoldering," said Mrazik. "The most important thing I saw there was a glass factory that was just melted to one mound and pile and there was a streetcar that was just blown off the tracks and all burnt to a crisp."
Mrazik shuffled through a small book of black-and-white photos detailing images of the carnage. "The bodies were all cremated and the stench was terrible," he said.
Other pictures showed naked Japanese soldier that were nothing but skin and bone. There was also distant shots of rubble and grey landscape. Mrazik leaves the room and returns with a heavy, three-foot-long Samurai sword.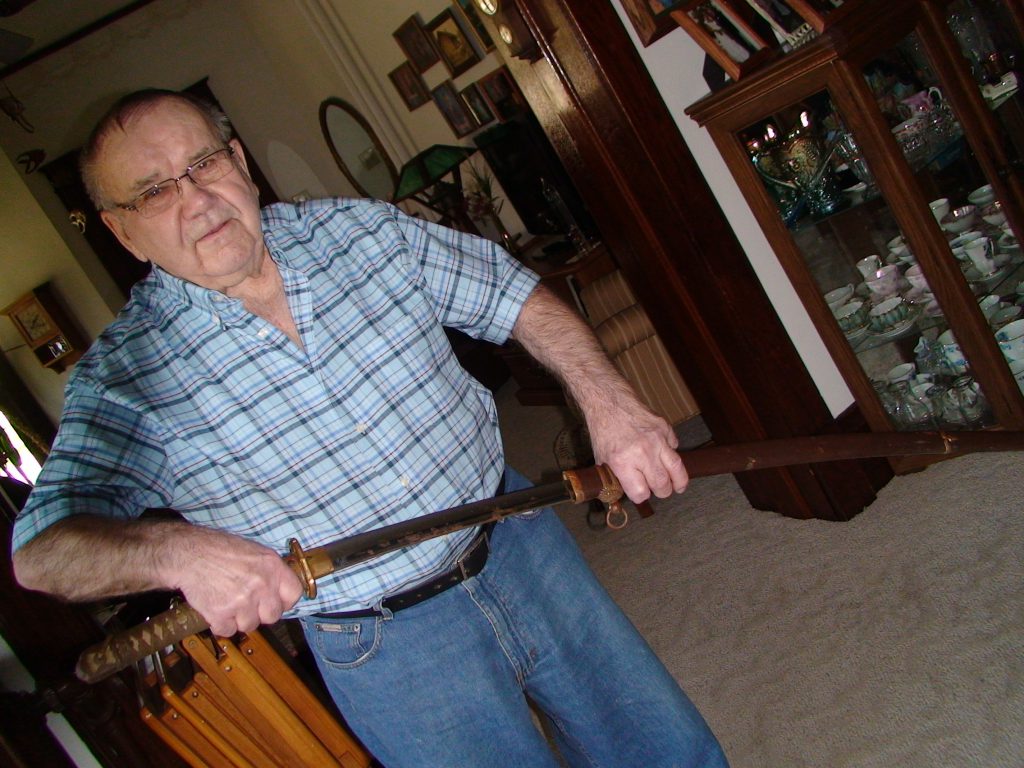 "I pulled that off a dead Japanese soldier," he said.
After a two-month tour, Mrazik was transferred to Kyoto, Japan where he worked in the 21st Quartermaster Car Company. "There were about 15 of us in the garage and we had to take care of the equipment, the trucks and jeeps, and we'd drive the brass around with them," he said.
In Nov. 1946, Mrazik came back to West Bend. "I pulled into Milwaukee on the train, took a taxi up to Fond du Lac Avenue and then hitchhiked to West Bend. I got by Pick Industries and my dad was working on the roof for the Hron Brothers and he walked me home," he said.
After two years of being in the service, Mrazik and his buddy Wally Kluever, took his new car on a three-week trip to Yellowstone and out to California and back.
Upon his return, Mrazik went to work for the Gehl Company. "Hank Gehl was president and he hired me on a Friday and told me to come in Monday," he said noting, "Hank used to like to tip the bottle a little bit."
"He had a couple under his belt that afternoon and when he came in Monday he said, 'What are you doing here?'"
Mrazik told Gehl he hired him. "He asked how much I was getting paid and I told him $1.10 an hour and Gehl said, 'I start most at a $1 but I'll give you $1.10.'"
Mrazik married, had five children and after two years at Gehl, went to work for Jerry Schloemer's Filling Station (corner of Main and Walnut where Westbury Bank is today), and Tennies Buick, and then opened his own garage – Mrazik Wagner Mercury Edsel which was located behind the former St. Somewhere – today the parking lot behind the former Grasshopper Restaurant.
Next Saturday (2011), Mrazik will travel with Nancy Mehring on a Delta 757 to Washington D.C. as part of the 10th local Honor Flight for area World War II veterans.
"I am happy to say I will be attending as his guardian," said Mehring. "He is my Godfather, and I'm delighted to be able to do this for him."
Because the group is smaller, this may be the first Honor Flight tour to visit the White House; however, all plans will hinge on the day's circumstances and national security level at the time.
While funeral services are currently pending, Jerry Mehring submitted another story about Frank.
Sad News!!

Just got a call that Frank Mrazik (Nancy's Uncle & Godfather) died today.  He was 94. No details available at this time.  A story that Frankie told us follows.

Years ago when Dad had the Fish Market Joe Strenke had the Auto Parts store a few doors down.  Every year Joe had a Christmas Lunch for all the auto mechanics that were his customers.  He set it up in the basement of his store along with beer.  Dad Mehring and Joe were always joking around with each other.  So Dad Mehring had Chuck Walters, who had the Lithia Brewery, bottle a case of water in beer bottles.  He gave the case to Joe Strenke who then put it in the cooler downstairs, not knowing they were filled with water.  Frank Mrazik was the first to arrive and went downstairs for lunch and a beer.  Soon Frankie came upstairs and said to Joe "You tight sun of a bi..h putting water in beer bottles.  Did you think we wouldn't know or say anything!  Joe thought for a moment and then said "Harold Mehring" that sun of a gun.  So their gags went on.  Frankie will be missed. Several years ago Frankie went on The Honor Flight to Washington DC with Nancy as his sponsor.  He said it was one of the best days of his life.

Jerry