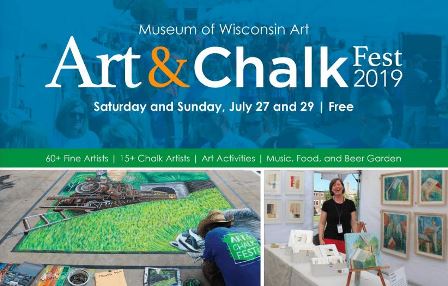 West Bend, WI – The Museum of Wisconsin Art (MOWA) is pleased to present the third annual Art & Chalk Fest on Saturday, July 27 and Sunday, July 28, 2019. This free, outdoor arts festival features a juried selection of 60+ fine artists selling their work and 15+ chalk artists from across the nation creating ephemeral masterpieces. The 2018 festival welcomed 23,000 visitors from across the nation.
"We're especially excited about Art & Chalk Fest 2019 because the MOWA Gardens and West Bend Riverwalk East project are now complete," said MOWA Executive Director | CEO Laurie Winters. "It's a gorgeous setting and destination for garden enthusiasts, art lovers, families, and visitors looking to spend a weekend in the city."
Art & Chalk Fest features a juried selection of fine artists selling original, handmade artwork in a variety of media: basketry, ceramics, fiber, fine art, furniture, glass, jewelry, leather, mixed media, photography, and wood. Visitors can shop from one-of-a-kind items and stop by each booth to meet the artists.
The museum parking lot becomes a concrete canvas for chalk artists to create ephemeral masterpieces, many of which are interactive and offer a three-dimensional illusion. Festival attendees are invited to vote for their favorite chalk artist. The winner is announced at the Awards Ceremony.
MOWA is free and open to the public for the entire weekend of Art & Chalk Fest. The summer exhibition, Among the Wonders of the Dells: Photography, Place, Tourism, takes visitors on a trip through 150 years of photography by seven historical and contemporary artists, telling the story of how the Wisconsin Dells transformed from remote natural wonder to the "Waterpark Capital of the World" and the state's largest tourist attraction. Pick up a Family Guide at the Member Services Desk to explore the exhibition to its fullest.
Art activities for all ages are offered throughout the festival. Attendees are invited to create their own chalk drawing outside on Veterans Avenue. Take a break from the heat and cool off in the atrium with interactive art projects. In addition to art, Art & Chalk Fest features live music and entertainment, food vendors, and a beer garden.
Event and Music Schedule
Saturday, July 27 | 9:00–5:00
9:30–12:00 | The Fainting Room
1:00–4:00 | Lead Bottom Band
4:00–4:30 | WB Dance Tumbling Troupe

Sunday, July 28 | 10:00–4:00
10:00–12:30 | Matthew Haeffel
1:00–3:30 | The Freques
3:30–4:00 | Awards Ceremony
Since last year's festival, MOWA's surrounding four-acre green spaces have transformed into spectacularly landscaped gardens. The MOWA Gardens include a field for activities, 800 quaking aspen trees, 1,200 hydrangeas, outdoor sculptures, and interconnected walkways perfect for wayfinding or meandering. It's a must-see destination in the heart of downtown West Bend and is framed by the stunning Milwaukee Riverwalk, white footbridges to shops and restaurants, and Eisenbahn State Trail.
Veterans Avenue will be closed for the duration of the festival. Free parking is available in public lots and downtown spots.