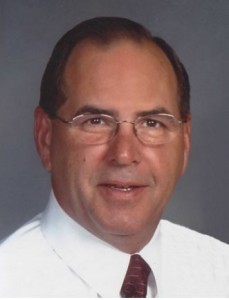 Charles Edward Myrhum, age 64, of West Bend, was granted eternal rest on Saturday, April 2, 2016 following a one month struggle with an aggressive cancer.
He was born on Friday, October 19, 1951 to the late Ole and Ruth (nee Weber) Myrhum at St. Joseph's Hospital in West Bend.  As a young boy, Chuck helped his father at their furniture store and funeral home and eventually, at the age of 15, began helping his father with their ambulance service.  He graduated from West Bend High School in the class of 1970 and continued his education as an accounting major graduating from the University of Wisconsin Milwaukee with a Bachelor of Business Administration in 1975.
Chuck always felt that his real calling was in funeral service so he continued his college education and become a licensed funeral director in 1977.  During his career his commitment to serving both his profession and his community were evident.  He was an active member and past president of both the Lakeshore Funeral Directors Association and the Wisconsin Funeral Directors Association.  He also had the honor of chairing several sub committees within the Wisconsin Funeral Directors Association.
He served on the board of appeals for the city of West Bend and was also an active member and past president of the West Bend Noon Kiwanis Club.  After taking over operations of the family business, Chuck was influential in remodeling their West Bend location which saw the addition of an on-site crematory to better serve the needs of the community.  He also helped expand the business from their one location in West Bend to four locations serving West Bend, Kewaskum, Mayville, and Lomira.  While he led an accomplished career, Chuck's greatest joy was having the opportunity to work first with his father and later with his son.
Chuck was a care free man who loved life.  He enjoyed boating on the lake, hiking, going for bike rides, walking downtown at the farmers market, cooking, and going to plays.  He liked traveling and in recent years traveled to many destinations around the world.  He loved golfing and always looked forward to his annual golf weekend with the "Hasbeen Hackers".  The fourth of July was Chuck's favorite holiday and he spent it driving the Kiwanis go-karts in the local parade in the morning, spending the afternoon boating on Big Cedar Lake where he would later watch the fireworks display, and finally ending the day with his own amazing firework show.  He loved spending time with his daughter touring historic locations around Wisconsin and always looked forward to their special lunches together.  He lived for his grandchildren and loved spending as much time playing with them as he could.
Chuck will be remembered as a hard working man who led by example and always did the heavy lifting.  He was humble, kind, and generous.  Above all, he was a selfless person who would do anything for anyone at any time.
Chuck is survived by his wife of 25 years, Debbi (nee Kilby); his two children, Sara (fiancée Paul Roemer) Myrhum and Matt (Nicky) Myrhum; two grandchildren, Nathaniel and Madelyn Myrhum with another grandchild on the way; his sister, Susan (Steven) Volm of Kewaskum; his brother, James (Jacqueline) Myrhum of West Bend; his aunt, Lorraine Weber of Ft. Meyers, Florida; and many other relatives and friends.
A Mass of Christian Burial for Chuck will be held on Saturday, April 9th at 10:30 am at St. Frances Cabrini Catholic Church (1025 S. 7th Ave. West Bend).  Burial will follow the Mass in Washington County Memorial Park.
The Family will greet relatives and friends on Friday, April 8 from 3 p.m. until 8 p.m. at the Myrhum Patten Miller & Kietzer Funeral Home (1315 W. Washington St. West Bend) and again on Saturday, at the church, from 9:30 a.m. until the time of Mass at 10:30 a.m.
Chuck loved supporting a variety of charities and with that spirit in mind, in lieu of flowers, memorials will be used to continue supporting those charities that he believed so much in.
Chuck was a great mentor and friend who dedicated his life to serving others.  On behalf of all of us here at the Myrhum Patten Miller & Kietzer Funeral Homes we are extremely honored to now have the opportunity to serve him.
Online condolences may be expressed at www.myrhum-patten.com
There's still time to send flowers to the Visitation at the Myrhum-Patten Funeral & Cremation Service from 3:00 PM to 8:00 PM on Apr 8, 2016.
---