January 29, 2023 – West Bend, WI – News regarding the death of community leader and WWII veteran Allan Kieckhafer, 99, of West Bend, Wi hit everyone in the heart late Friday afternoon.
"Never wanted this day to come," said Kristin Brandner, CEO of United Way of Washington County. "Our beloved Allan, a true hero for his country and county. He was very generous in giving his time and support to local charities. A man that will always be deeply remembered for his intriguing stories, and his passion to help others."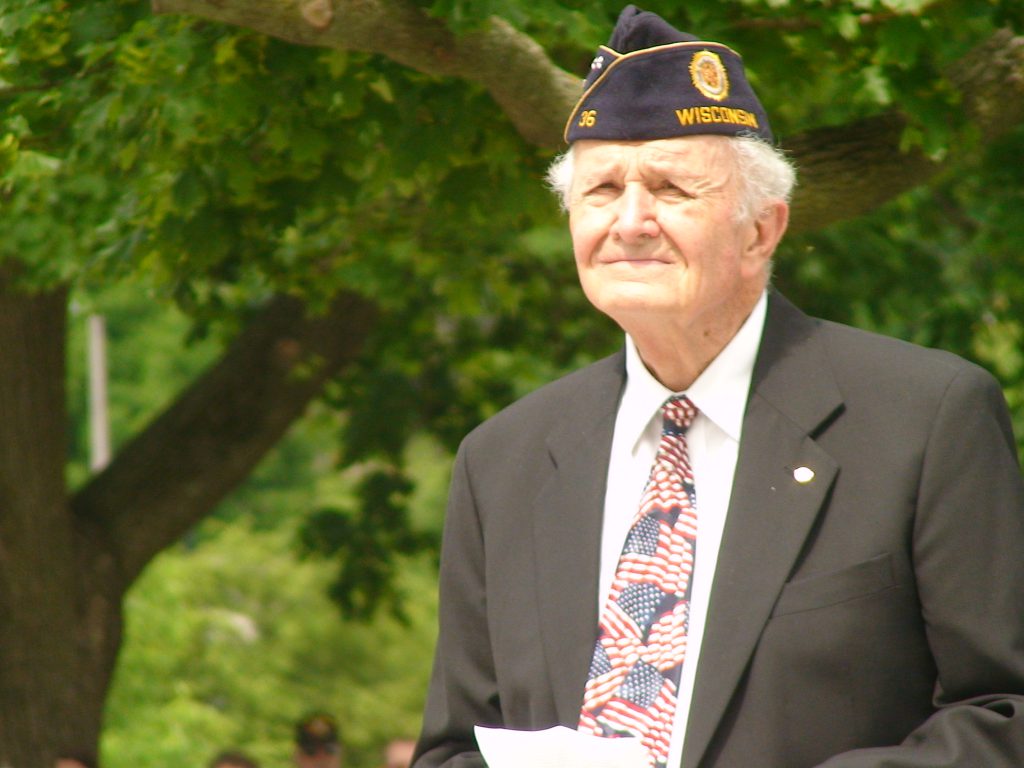 Allan was born in West Bend on December 25, 1923 to the late Albert and Lorena (nee Cooley) Kieckhafer.  He graduated from West Bend High School in 1941.  He graduated from Midshipman School at Columbia University in N.Y. City and served as a Lt. (JG) on the LST 811 in the Pacific Ocean during WWII.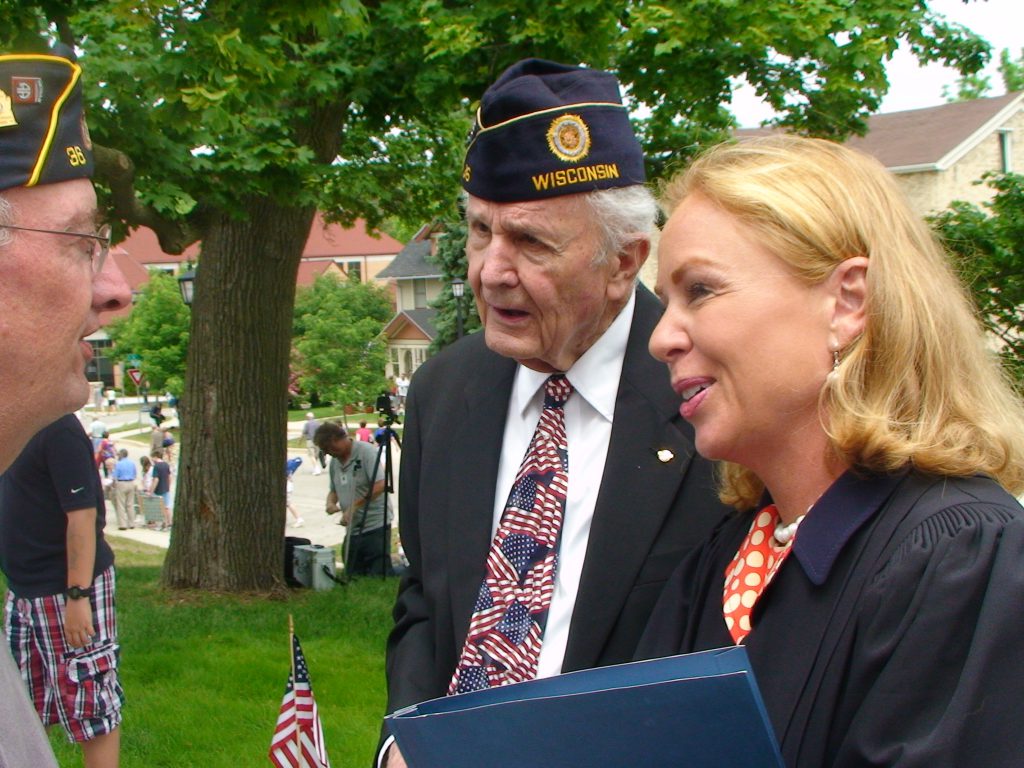 "Allan Kieckhafer was a pillar in our community," said State Supreme Court Chief Justice Annette Kingsland Ziegler. "He was a dear friend. He served as my very first campaign chairperson. Although born on Christmas, he was the gift as he always wore a smile.  Not only was he kind and thoughtful, he is one of the last, of a remarkable generation. He proudly served our country and was a generous leader.  He is a great example of a life well lived. He will be missed.  Rest in peace."
As a proud Navy veteran, Kieckhafer spent over 40 years as a member of the Memorial Day services committee for the City of West Bend and performed the role of Master of Ceremonies for many years.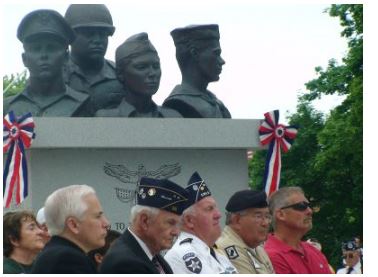 Bonnie Amerling –

He was one of the best. So kind to all.
After the war, Kieckhafer returned to Beloit College where he received a degree in Economics in 1947 and from the University of Wisconsin with a degree in Business Administration in 1949.  He married Jean Van Wart of Janesville in 1949.
Jerry Mehring said, "Allan was one of the finest gentleman in West Bend.  We are all better because he passed thru our lives.  He will be truly missed!"
Kieckhafer established Boy Scout Troop 780 at Fifth Avenue Methodist Church and continued working on behalf of the Boy Scouts for over 50 years as President of the Badger Boy Scout Council and a Trustee for the Bay Lakes Council.  He was awarded the Silver Beaver award for his outstanding service to the Boy Scouts.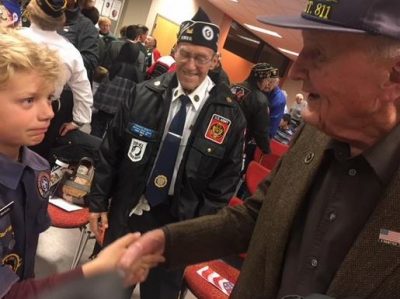 Rob Johnson – "

Absolutely one of the most caring and generous people I knew, he will be missed greatly!"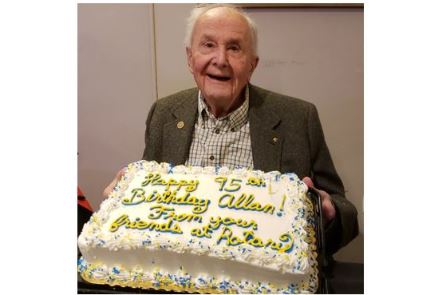 Perhaps Kieckhafer's most visible contribution can be found at the Museum of Wisconsin Art, where he served as a Board member and a major contributor to the new building, which includes the Jean and Allan Kieckhafer Gallery.
Laurie Winters, MOWA CEO – "Allan was an incredible and much admired patron of the Museum of Wisconsin Art. A member since the museum's founding in 1961, Allan understood how important the museum was to fostering a sense of community. Everyone at MOWA admired Allan for his joy for life, his love of family, and especially his beloved wife whose name and memory were part of every conversation. We thank Allan for helping to build the new museum and for helping make our gardens bloom every summer. His memory lives in the art."
Lori Lynn-Radloff –

What a treasure of a man…Kind, generous and caring. Mr. Kieckhafer you will forever be missed
"Allan Kieckhafer and Bernie Ziegler were my favorite bosses at West Bend Company," said Nancy Mehring. "He was always so kind, friendly, and considerate. I'm sure Allan is happy now with his wife in heaven."
Allan was a former Drive Chairman and President of the United Way of Washington County.
Additionally, he was instrumental in founding the University Ambassadors council at the University of Wisconsin in Washington County. He served as the Council President in 1975 and continues to act as an ambassador at the campus.
Rocky Dedrick –

An unforgettable person and personality. When you met him for the first time he'd say "Allan, two l's and two a's!"
Allan was employed at the West Bend Company for 37 years in the areas of sales, personnel and community relations. Allan & Jean enjoyed traveling throughout the U.S. and to many foreign countries.  He retired in 1987, but continued his community service in a multitude of organizations.  He was a member of the Veterans of Foreign Wars and the American Legion. Allan served as President of the University Council of UWWC and received the UWWC Distinguished Service Award.
He had served as a Trustee for the Fifth Avenue United Methodist Church where he had been a life-long member. Allan was awarded the Rotary Paul Harris Fellowship Award. May 29, 1987, was proclaimed to be Allan Kieckhafer Appreciation Day by the Mayor of West Bend for his many years of service to the community. Allan chaired the 1985 Centennial Celebration of West Bend. In 2013, Allan felt privileged to have taken the Stars & Stripes Honor Flight to Washington, D.C.  He consistently served as emcee for the Memorial Day Service in West Bend and always strived to make West Bend a better place to live and work.
Allan is survived by 4 children, Drew (Marga Kafka) Kieckhafer of Denver, Doug (Karen) Kieckhafer of West Bend, Barbara (Brock) Horner of Kansas City, Susan (Daniel) Patterson of Oconomowoc; 11 grandchildren, Erik (Tess) Kieckhafer, Amy (Kevin Doran) Kieckhafer, Benjamin (Jolynn) Kieckhafer, Adam (Christin) Kieckhafer, David (Charlotte) Kieckhafer, Andrew (Brett Ashley) Barth, David (Jillian) Barth, Katherine (Stephen) Moore, Brock Horner, Thomas Patterson, Michael Patterson, Charles Patterson; 18 great-grandchildren, Asa Kieckhafer, Juniper Kieckhafer, Millie Doran, James Drew Doran, Brookelynn Kieckhafer, Jonas Kieckhafer, Ames Kieckhafer, Timothy Kieckhafer, Kendall Kieckhafer, Charles Kieckhafer, Isla Kieckhafer, Lewis Kieckhafer, Thomas Barth, Charlotte Barth, Harrison Barth, William Barth, Anna Moore, Abigail Moore.
In addition to his parents, he is preceded in death by his wife, Jean, 2 sisters & 2 brothers-in-law, Anne (Robert) Becker and Mary (Walter) Schlaugat.
The family wishes to express its gratitude to Karri of Karring Partners for her loving care given to Allan.
A Celebration of Life service in remembrance of Allan will be held at noon on Monday, January 30, 2023, at Fifth Avenue United Methodist Church, 323 S. Fifth Ave., West Bend, with Pastor Clarissa Martinelli officiating.
Visitation will be at the church from 10 a.m. until the time of the service.  Private family burial will follow at Washington County Memorial Park, West Bend.
In lieu of flowers, donations may be given to Fifth Avenue United Methodist Church or to the Museum of Wisconsin Art.
Myrhum-Patten Funeral and Cremation Service has been entrusted with Allan's arrangements. Additional information and guest book can be found at www.myrhum-patten.com.