Funeral today for Joe Barbercheck – Pizza Joe's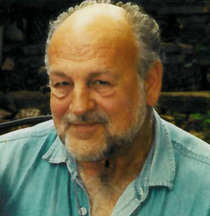 Joseph Paul Barbercheck, 77, the owner of Pizza Joes in Barton has died.

Joseph (Joe) Barbercheck , 77, passed away unexpectedly at his home on Friday , Feb. 26, 2016
He was born March 10, 1938, in Gary, IN to Joseph and Helen (Michrina) Barbercheck and grew up in the Merrillville, Crown Point IN area.
Joe was THE jack of all trades from an aviarian to an exterminator, a steel worker at US Steel and a woodworker in West Bend, even to the end he pushed himself to do so many things that should have been out of his reach.
His greatest passion was his restaurant Pizza Joe's, that he started in Kewaskum and later moved to Barton.
Most of his friends and customers would kid with him and say, "first name Pizza, last name Joe."
He had such a hard working soul and his positive spirit carried us thru everything.
His favorite saying whenever he was asked how he was doing was "I'm in good shape for the shape I'm in" and he would say it with a smile on his face.
Joe was the happiest when he hooked a walleye on his cane pole, and when his grandchildren came to visit.
He is survived by his loving wife and support system, Catherine Barbercheck, who was by his side through all his struggles that life handed him, 2 step sons, Andrew (Melissa Albrecht) Gundrum, James (Nichole Tant, fiancee) Gundrum, 7 adoring grandchildren, Veda, Morgan and Cooper, Izavella, Jack, Sylas and Zoey. His 3 children Mark (Linda) Barbercheck , Suzy (Steve) Nielson, Dawn (Mark) Koenings, 5 grandchildren and 2 great grandchildren, 3 wonderful brothers Thomas (Nancy) Barbercheck of New Albany, IN; Ronald (Sue) Barbercheck of Goodlettsville, TN; Phillip (Linda) Barbercheck of Crown Point, IN, brother-in-law Gary Larsen of Milw., Sister-in-laws Pamela (Lawrence) Gromowski of West Allis, Nancy (Vince) Tarantino of Elm Grove, and Lynn (Christopher) Gieldon of West Bend. He is further survived by many caring nieces, nephews, other relatives and friends, and will be sadly missed by his 3 lap buddies, Brandy, Missy and Joey.

Joe was preceded in death by his parents, Joseph and Helen, his brother David, his in-laws Wayne and Patricia Larsen and a sister-in-law Debbra.
Visitation will be at the Phillip Funeral Home from 1 p.m. to 4 p.m. Thursday March 3 with the memorial service to follow.
A special thank you to Dr. Kauffmann for making it possible for Joe to be at home with me for all these challenging years and to our good friend Bob Miller for always being available whenever we needed him.
Vintage photo courtesy Terry Becker