Funeral today for Rev. James A. Strupp, 77, of West Bend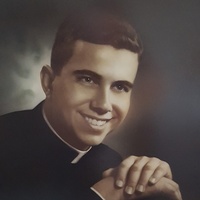 Sept. 2, 2017 – West Bend, WI – Rev. James A. Strupp of West Bend died on Wednesday, August 30, 2017 at St. Joseph's Hospital at the age of 77 years. He was born on July 14, 1940 in Fond du Lac to the late Raymond and Colette (nee Thill) Strupp.
He attended and graduated from Holy Angels Grade School. After graduating from West Bend High School with the Class of 1958, began his priestly formation at St. Francis Minor Seminary. He completed his studies at St. Francis de Sales Major Seminary during the period of 1960 -1967.
On May 20, 1967, he was ordained to the Priesthood by Archbishop William E. Cousins at the Cathedral of St. John the Evangelist in Milwaukee.
Rev. Strupp celebrated his first Mass on May 21, 1967 at Immaculate Conception Church in Saukville. His first appointment was as curate to serve Our Lady Queen of Peace Parish in Milwaukee.
He later went on to serve as associate pastor at St. Mary's Parish in Menomonee Falls, Holy Redeemer Parish in Milwaukee and St. Francis Borgia Parish in Cedarburg from.
On November 28, 1978, he was released for studies in Clinical Pastoral Education, and on March 27, 1979, he was appointed Director of Chaplain Services for St. Joseph's Community Hospital in West Bend.
For many years, he served as a chaplain for West Bend area health care facilities, retiring from active ministry on October 31, 1992.
He was a member of the Fr. Casper Rehrl Knights of Columbus Council 1964, Our Lady of Holy Hill Assembly 1677 Fourth Degree Knights of Columbus, the Washington County Ministerial Association, National Association of Catholic Chaplains, Apostolate of Suffering and was a co-founder and executive officer of Friends for Life, Inc.
He is survived by many cousins and their families, other relatives and friends.
He was preceded in death by his father Raymond on March 11, 1988 and his mother Coletta of August 24, 2008.
A Mass of Christian Burial will be held on Saturday, September 2 at 11 a.m. at Holy Angels Catholic Church with Most Reverend Jeffrey Haines presiding. He will be buried along side his parents in St. Mary's Cemetery in Port Washington. Visitation will be at the church on Saturday from 8 until 10:45 a.m. There will be a reception following Mass in the church hall.
The Schmidt Funeral Home of West Bend is serving the family.