September 13, 2022 – Washington Co., WI – Comments are swirling regarding the future of the Samaritan Home in Washington County as another administrator turns in her resignation.
What once appeared a priority in the county with a dedicated Task Force and study committee, now, as a Samaritan resident noted, did not even manage a reference during the county executive's 2022 state of the county address.
So, what is the status of the Samaritan Home and what is the future?
According to the county website: "Since first opening its' doors in 1968 as a stand-alone nursing home, the campus has grown to include a wide array of service offerings.  The Samaritan Health Center has 131 skilled and Medicare certified nursing home beds including 119 private rooms and four specially equipped rooms for bariatric clients.
Samaritan Campus serves the needs of Washington County citizens as they age and have health, housing and rehabilitation needs.
Click HERE to SUBSCRIBE to FREE local news at
A timeline on the Samaritan Home discussion:
In June 2021 after nearly a year of discussion regarding Washington County and Cedar Community work on a leasing and shared services partnership with Samaritan Campus, Cedar Community bowed out. Click HERE to read the article.
Cedar Community CEO Nicole Pretre said, "Careful consideration of the preliminary discussion around a potential partnership was exercised through a series of cost-benefit analysis and financial modeling scenarios provided through a neutral third-party accounting and consulting firm. As a result of this due diligence, Cedar Community's Board of Directors chose not to further pursue the discussion." On average, about 70% of the long-term care residents at Cedar Community are Medicaid recipients.
In July 2021 the Washington County Board received an update on the future of the Samaritan Home with discussions about going to a referendum in April 2022. At the time a proposal with the words 'Compassion, wellness, community' detailed support of a resolution to "approve the concept of the continuum of care at the Samaritan Health Center." Click HERE to read the report.
Part of the discussion during the July 2021 meeting was financing and awaiting funds from the U.S. Treasury. A section of the story read; Washington County is in line to receive approximately $26.2 million in federal COVID relief funding. Schoemann said it is possible the federal money the County will be receiving could pay for this. "That's why I said we have to let Matt finish all his work. By the time he finishes we should have final guidance from the U.S. Treasury.  I don't know that it would pay for all of it, but it may be able to pay for a good portion," he said.
The "Matt" referred to in the story is Matt Furno. Calls have been placed to Furno but recently a policy was enacted by the county executive and Furno said he cannot now speak directly to the issue. "I am not allowed to speak," he said, "We could use your help in this whole thing."
An email was sent to have a sit-down interview with Furno but so far there's been no response.
Former Washington County Board chairman Herb Tennies: The taxpayers deserve the right to have the Samaritan Home. If the county has to take care of the people who have paid taxes all their years and have had bad times, they should have a place to go and be taken care of and most taxpayers in the county would agree with that.
Washington County has received $26.4 million from the American Rescue Plan Act (ARPA)
So far, the county has not mentioned any ARPA funds to be designated to the Samaritan Home. Calls have been placed to County Board chairman Jeff Schleif with no response.
The county has also received over $15 million in sales tax in 2022 and it is part of multiple lawsuits against pharmaceutical companies. Wisconsin has received a $400 million opioid settlement tied to those lawsuits. So far there's no word how much Washington County has specifically received in that settlement or if funds could be used to help the Samaritan Home.
Following up on the July 2021 meeting noted above, there was no referendum for the Samaritan Home on the April 2022 ballot. Right now, the county appears focused on a November anti-crime referendum with a reoccurring annual $3.6 million charge to taxpayers.
Former Washington County Supervisor (1992 – 2008) Maurice (Maury) Strupp said he has been visiting his uncle at the Samaritan Home. "I don't think the building is that bad. If they do anything the county should be using sales tax money and not try to get money from the state."
This week, September 8, 2022, another resignation was submitted from the Samaritan Home as administrator Taya Walk turned in her notice; she had been on staff at Samaritan since June 23, 2021 replacing Mari Beth Borek.
Inside the Samaritan Home residents talk about the limited staff and some have mentioned how staff are paid with gift cards as incentives should they choose to work 7 days a week or more. Residents have also mentioned feelings of worry and insecurity about their living situation. Another wondered if the National Guard would be brought in to help with staffing.
County Supervisor Jodi Schulteis is Chairperson of the Human Services Committee, which in part, is informed about the Samaritan Home and its status. On the county board since being appointed in 2020, Schulteis said she has not been inside the Samaritan Home.
Questioned about the future of the Samaritan Home she said, "We continue to meet on it and discuss it and we continue to take the Task Force recommendation seriously but there has been no decision one way or the other."
Former Washington County Clerk and County Board Supervisor (2008 – 2020) Marilyn Merten said the Samaritan Home is very important to Washington County. "We do a lot for everybody we better be thinking of doing something for our people who are needing therapy and those who cannot live alone anymore."
In August 2022, Debra Kison, a 7-year resident at Samaritan Home, wrote a letter to county executive Schoemann asking for answers on whether the Samaritan Home would close.  Click HERE to read her full letter.  A portion is posted below.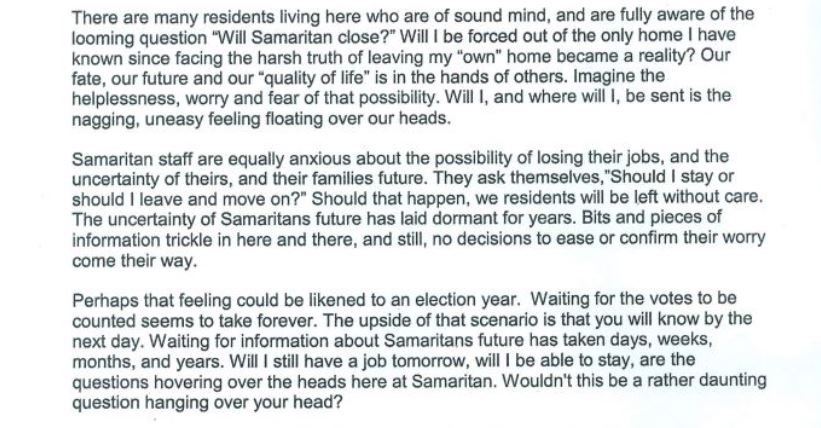 In 2019 a Samaritan Task Force was formed; that committee was charged with looking for different options on how to resolve issues facing the Samaritan Home. Deb Anderson served on the Task Force. Anderson previously worked for five years as the senior activity's director at the Senior Center. She also served as an alderperson in West Bend and recently ran for the Washington County Board.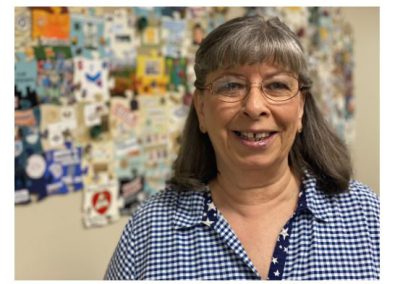 "We looked into the fact that many other counties have closed their county facilities," said Anderson. A record search shows 31 of 72 counties still have nursing homes.
"People who run out of money, end up being placed outside the county and their families have a hard enough time seeing them on a regular basis, because they're busy raising their kids and taking care of their lives. A lot of seniors end up very isolated, which is, in my opinion, death making, because people don't have anything to look forward to."
Anderson said the Samaritan Task Force was made up of a cross section of people; she described it as some members had family living at Samaritan and others were business people.
"All except one participant agreed that we, our community, on a moral basis, has a responsibility for taking care of our older people," she said. "People who helped create the county we live in now; we can't just walk away from them."
Anderson said, "the Samaritan is really struggling." She has first-hand knowledge, visiting the home on a regular basis to care for family and visit friends.
"I think the people who work there are very dedicated," she said. "I've never seen a person there I'd be concerned about, and I have been involved. Usually with people who have lived there or have been rehabbing. So, I spend a lot of time there and I see how shorthanded they are and yet they don't complain, and they work so hard to meet the needs of the people who live there, and I don't want to see that go away."
Anderson felt the Samaritan Task Force made "excellent strides."
"We looked at all of the data, had wonderful input from a number of people who are knowledgeable, people in the community and we were given lots of information we needed to make a decision," she said.
"Our recommendation was to build a new Samaritan and that went to the committee that's part of the health department, Health and Human Services. That recommendation was approved, and I believe it went to the county board and it was approved there as well."
Anderson said the issue of money and location were the latest hurdle, but she indicated there was land north of the county jail, which belongs to the county already.
"So, it's not more money going out to buy land. They were doing a study for feasibility there. I have not heard any results."
Anderson praised working with Matt Furno; she described him as "just amazing" and "his values, his priorities are just exactly where they need to be for the job he is doing."
Questioned about the lack of movement on the Task Force recommendation and a possible Samaritan referendum being replaced by a safety referendum, Anderson said it's discouraging.
"Well, Samaritan was a priority. I don't know what happened that ended up not being a priority anymore. But it's important to keep these issues at the forefront and they need to be addressed in the perspective of human need, not the perspective of what's going to get me elected," she said.