Gazebo design for Old Settlers Park revealed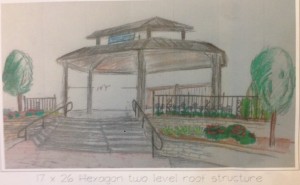 Posted a story earlier this week about the framing of the new gazebo that's been completed at Old Settlers Park in West Bend. Contractors are taking advantage of the nice weather and working to complete the structure before spring.
Craig Hoeppner with the West Bend Park & Rec Department says the shrubs and bushes and flowers should be planted in May. That work will be done by Shirley Decker and her team at Roots & Branches.