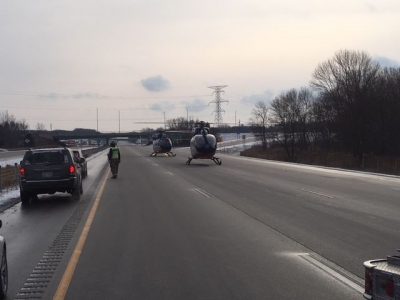 Dec. 30, 2017 – Germantown, WI – It is without question that yesterday's crashes, (Friday, Dec. 29) on I41 challenged Germantown Police Department and other area departments.
Anytime Flight for Life lands on I41, both sides of traffic needs to be shut down. Shutting down one side is a major operation, both sides is a monumental task.
Keep in mind, our normal staffing is three patrol officers and one supervisor, the staffing we had on yesterday. Therefore we heavily rely on other law enforcement agencies for help when we need to deal with major incidents like yesterday. We need to deploy resources to the crash scene for life saving measures and investigation, diverting traffic off of I41, and as many side road issues as we can deal with. Also keep in mind that our normal calls for service do not take a break because we are busy, they are still coming in requiring a police response. That is why as soon as I got on scene, and sized up the situation, I asked for more off duty GPD staff to be called in to help.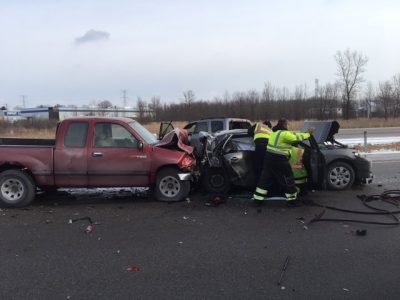 I would like to take this opportunity to thank those who were stuck in traffic yesterday for their patience an understanding. I realize that this was a major inconvenience and some travelers were stuck in traffic for a lengthy period of time. And I do appreciate those who felt like we should be doing more to clear traffic, when you don't know what is going on, it is easy to get frustrated. However, I have to commend the first responders, for a major incident with a two Flight for Life response, multiple injuries, extrications, multiple vehicles needing to be towed, investigation, etc., we cleared I41 in less than 2 hours.
On the Law Enforcement side of things, a big thank you to the Washington County Sheriff's Department and the Wisconsin State Patrol, we depleted their resources as well. They did a great job and it is always a pleasure working with them. To our GPD staff, officers, supervisors, communications, those who came in on their off time, a big thank you, and a job well done.
In closing, yesterday's crashes were easily avoidable. Drivers need to put their phones down, drive within the speed limit, drive cautiously and courteously. It is all about good manners, like opening a door for a lady. When your drive, think about others and how what you do impacts them. Being courteous and kind is fairly easy to do in everyday life, including driving.
Stay safe, drive safe and stay warm.
Chief Peter Hoell
Photos courtesy Germantown Fire Department