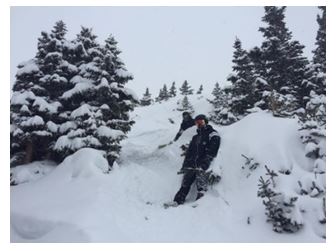 April 5, 2017 – West Bend, WI – Hunter Zaskowski:  Tuesday was my last day off as I have competitions the next two days.  I had an amazing day of free riding.  A group of us, including a coach and one of my friends from the Waukesha team, went to the highest level of elevation and spent the day tree riding.
We had well over a foot of fresh snow come in during the night and it continued during our off-course adventures.
For me it's an adrenaline rush, sight and experience you can't put into words.  It's not your traditional groomed trails, you make your own along the way.  I am really looking forward to Giant Slalom today and hoping for two solid clean runs.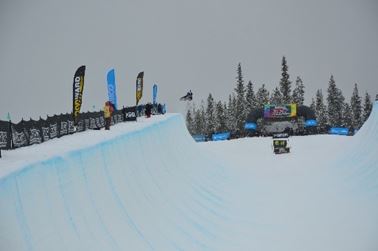 Cole Rummel:  Tuesday I competed in the Halfpipe (Superpipe here in Copper).  It's not my best event but I do enjoy riding it.  It doesn't help that there is not a Halfpipe in the state of Wisconsin so I don't have any place to practice unless we travel out of state.
The walls that I aired today are 22-feet high.  If you look close in the picture you can see me in the air on the left side by the flags. I did my best so I felt good about my runs.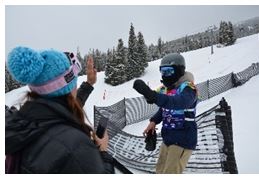 Thanks mom for the quick high five as I exited the course!
Today I am onto racing the same Giant Slalom course as Hunter.  We are in different brackets, but will still get to see and support each other at the top of course.