Gov. Walker addresses Rep. National Convention
Day 3 report.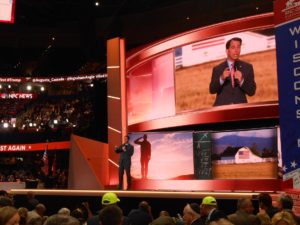 The convention was gaveled to order at 7:50 PM.  The energy level was immediately off the charts with a spirited speech from talk radio host Laura Ingraham.
Her speech rivaled Rudy Guiliani's day one speech for enthusiasm for Donald Trump and America.
Toward the middle of the evening the delegates were treated to an epic speech by our very own Gov. Scott Walker.
Walker did not use the podium or the teleprompter as he spoke directly to the delegates and citizens of the country.
Shortly thereafter, Senator Ted Cruz spoke to the delegation.  While Sen. Cruz delivered a powerful speech supporting conservative values, he asked everyone to "vote their conscience" and did not give a direct endorsement of party nominee Donald Trump.
He was met with vociferous boos in a strong show of party unity behind Trump.
This was particularly interesting, since about 40% of the delegates in attendance were Cruz delegates including myself (I did not boo, but I didn't approve of this strategy by Cruz) .
Nevertheless, the evening moved forward with speeches by former House Speaker Newt Gingrich and Eric Trump.  Wisconsin's Paul Ryan introduced VP nominee Gov. Mike Pence which was the pinnacle of the evening.

On a separate note, I walked through the village square where all the protesters were assembled.  I found the number of protesters to be greatly exaggerated, as I would estimate there were 50-75 actual protesters at around 3 p.m.  The rest of the crowd was comprised of wandering onlookers and curiosity seekers.
Jim Geldreich
5th District GOP Delegate