Sept. 9, 2017 – West Bend, WI – Good Shepherd Lutheran Church ( WELS)  on the corner of Decorah Road and Indiana Avenue will hold a ground breaking Sunday Sept. 10 at 9:15 a.m. for its recently adopted building project.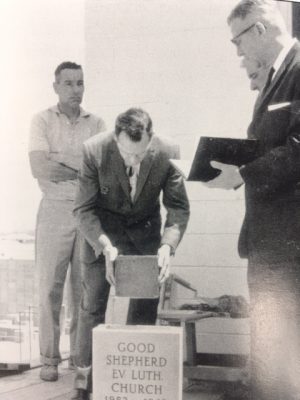 A bit of history: Courtesy '50 Years of the Good Shepherd's care'
The Wisconsin Evangelical Lutheran Synod started Good Shepherd Evangelical Lutheran Church in 1950. The first service was held in the Barton Fire Hall on June 11 and 41 people attended. Four months later the place of worship changed to the Leigh-Carrol Dancing Studios in West Bend. However on Dec. 20, 1950 that building was destroyed by fire.
It wasn't until June 17, 1951 when a parsonage was purchased at 775 Indiana Avenue and on June 3, 1953 ground was broken for the new Good Shepherd Church.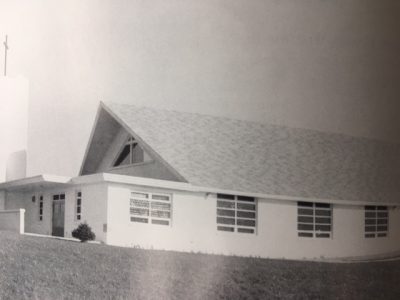 The cornerstone was laid Aug. 23, 1953; as part of a time capsule of sorts  a Bible, history of Good Shepherd and other historical material were placed in it. The new $30,000 church was dedicated May 16, 1954 and a 10 a.m. service was broadcast on WBKV Radio.
Fast forward 64 years and with a couple other expansions and growth of congregation and students the church/school is ready to grow again.
Below is documentation of an annual report from the building improvement and expansion committee.
ANNUAL REPORT OF BUILDING IMPROVEMENT AND EXPANSION COMMITTEE
At our May 26, 2015 Voters' meeting, our voters' approved a recommendation to study and propose improvements and expansion of our facilities.  In June 2016 the Building Improvement and Expansion Committee, with approval from the Coordinating Council, chose to work with Excel Engineering for the design component and Catalyst Construction as the general contractor for the future building expansion to our church and school.
2014-2016
Our Leaders interviewed various church groups to identify facility maintenance and expansion needs
Building Committee formed to reaffirm expressed needs
Interviewed several Engineering and Construction firms and decided to work with Excel Engineering
and Catalyst Construction, met with them on preliminary concept ideas
List of needs endorsed by Coordinating Council and congregation
October 2016
Met with Jeff Davis of Cornerstone Stewardship Ministry
Held open forums to gauge interest from members regarding proceeding with a building expansion/renovation  project
Promoted the "Building Connections Vision" Our vision is to build stronger connections to our Lord through his Word, Build stronger connections to one another through fellowship and service and Bible study, and help people get connected to Jesus through the power of the Gospel.
Plans tied directly to promoting more ministry and reaching more people
December 2016 Voters' Meeting
Approved master site plan concept and Phase I of building project
Phase I:
Two finished and two unfinished classrooms – reach more children
Elevator – accessibility to both levels of building for everyone
Fellowship Hall – better setting for large Bible classes, fellowship meals and activities
Enlarged entryway – more welcoming, better atmosphere for guests and members alike; School safety factor for entrance to building
Upgrades to HVAC – all rooms
Fireside room – better setting for smaller Bible studies and other meetings
Additional bathrooms and upgrades to existing ones
Additional storage space
Phase II (future expansion):
Convert gym to classrooms
Add new gym
Full kitchen for fellowship hall
Additional lower level bathrooms
New lower level entrance
Approved capital campaign utilizing Cornerstone Stewardship Ministry with Jeff Davis as our consultant to promote Biblical stewardship principles
January – April, 2017
Conducted capital campaign
$1,700,000 in pledges over three year period from 274 giving units
$95,400 additional from Patricia Knolle estate (more could still come)
Strong support from members and involvement of Promotions Team
May 2017
Common Council released $10,000 for beginning work on construction drawings
Voters released remaining $133,571 to complete construction drawings
Voters approve working with Thrivent for necessary loans
Up to $1,500,000 for final mortgage (10 year fixed with 30 year amortization; estimated 4.6% interest)
Necessary construction loan
Short-term bridge loan to cover pledges still to be remitted
Open member loan program after reviewing terms for new loans
Building Committee meets often with Excel and Catalyst to nail down more details, will involve members in
Design Committee, I.T., Media, and Security issues
June 4, 2017
Special voters' meeting authorized construction of Phase I
Target date to start construction – September 15, 2017
Gathering input and working with Excel and Catalyst on the fine details of the project
Planning to use time and talents of our members in the building project to reduce costs
We thank the Lord for richly blessing our planning efforts and seek his continued guidance and blessings as we move forward with construction.  Thank you to our members for their support and useful input which has enhanced our project.
Tim Reis,
Building Committee Chairman
Committee Members – Tom Frailing, Dave Heather, Mike Nank, Nate Scheunemann, Dennis Tennier, Lori Yahr. Also attending are Pastor Robert Hein, Pastor John Paustian, Principal Jim Sievert, Congregational President Mark Frank
Below is an early look at some of the designs for the new entryway at the church.