Feb. 15, 2019 – West Bend, WI – At West Bend High School, there is a required, one semester class called "U.S. Government and Law." The course overview says:
In this course, students will experience how the wheels of government and justice work at the local, state, and federal level. Student activities and hands-on experiences will be emphasized to demonstrate how "We the People" are affected by and function within our government and law. Students electing to take Advanced Placement U.S. History have the option of taking this course in grades 10,11, or 12.
Good, right? I would argue that part of the reason for public education is to equip people to be active participants in our civic society, so this kind of education is good. One semester seems entirely inadequate, but at least it will provide kids with a rudimentary understanding of the levels of government, how legislation works, how the legal system works, etc., right?
Wrong. With one precious semester to teach kids about their government, the teachers at West Bend High Schools are using it as an opportunity to advocate liberalism to the impressionable teenagers under their care.
Here is a description from Esquire, of all places, of what happens in class:
The class recently took a political-opinion poll that places students on a forty-four-point spectrum from Conservative Reactionary (22C) to Liberal Radical (22L). About two thirds of the class were moderate to liberal, falling between 1L and 22L. Ryan says a few kids landed at the extremes: one "conservative radical," a boy, and three "liberal extremists," all girls.

[…]

Mr. Inkmann then has the students sing two songs written by another West Bend teacher. "The Liberal Song" is set to the tune of "Ode to Joy." Mr. Inkmann offers to sing first before everyone joins in. "If I were a liberal, liberal, life would be so very great," the lyrics read, "knowing that in liberal land this other man could marry me." The students flip through their political-spectrum packets to follow along. One kid snaps his fingers, rocking out. "The Conservative Song," set to the tune of "Beer Barrel Polka," includes lines like "I hate social programs, they really make me want to puke / I would rather use the money for a two-ton nuke" and "Welfare is not good, before we had it, people tried / And I hope the biggest criminals are electrified!"
Yes, you're reading that right. Here are the songs written by the other teacher: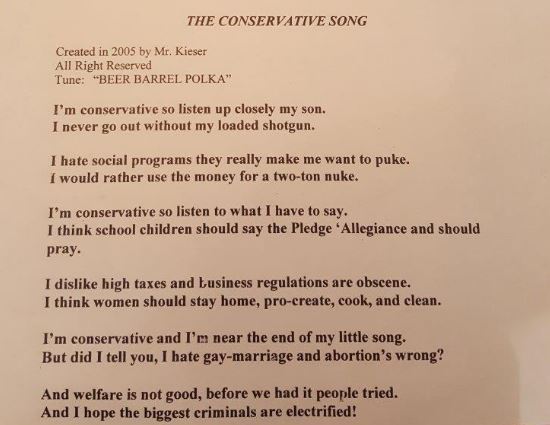 You can see the difference in the language. The liberal song is positive and uses words and phrases like "loved," "happy," "pro-choice," "protest in a big parade," "end pollution," etc. The conservative song is negative and uses words like, "hate," "women should stay home, pro-create, cook," "hate gay marriage," want to puke," etc. This is a liberal's caricature of conservatism. It's a straw man that the teachers then spend the rest of class tearing down. It is not even close to an accurate description of modern conservative philosophy.
This is not isolated. I'm told that in Mr. Kieser's class, the teacher who wrote the lyrics, it is much the same. The first few weeks of the semester have been spent having kids identify their stances on political issues and then the teacher will spend oodles of time "explaining" to the kids how the liberal positions are the better positions – without outright saying it, of course. The message to the kids is clear, however, if you hold conservative views, you are a violent heartless bigot.
This is not a rogue teacher. This is part of the planned course of study.
There are two outrages here. First, the obvious outrage that the lefty teachers are abusing their positions of authority to push their lefty views on kids. Second, they are wasting educational time on this junk instead of using it to teach the kids about their government and legal system.
It would be easy to fill four years of civics classes with just the mechanics of government and law – without even getting into political philosophies. And yet West Bend is choosing to fill class time with this and leave the kids ignorant about everything except the basics of our government and legal systems. Curriculum is about choices and the West Bend schools are choosing to advance liberalism with the scarce classroom time allotted to them.
Owen Robinson is a local blogger. You can find him at Boots&Sabers.com
Disclaimer: Opinions and letters published in http://www.washingtoncountyinsider.com are not necessarily the views of the Editor, or Publisher. The http://www.washingtoncountyinsider.com reserves the right to edit or omit copy, in accordance with newspaper policies. Letters to the Editor must be attributed with a name, address and contact phone number – names and town of origin will be printed, or may be withheld at the Editor's discretion. During the course of any election campaign, letters to the editor dealing with election issues or similar material must contain the author's name and street address (not PO Box) for publication.
WCI COMMENTING RULES OF ETIQUETTE:
While open and honest debate is encouraged here, Washington County Insider asks that you comply with the following rules for posting. Those who do not comply will have their posts removed and may result in being banned from commenting.
Washington County Insider will not publish comments that:
Are considered likely to provoke, attack or offend others. This is known as "trolling." Trollers know when they are trolling, and so do we. *See definition of "troll" below. If you notice a few consistent blog trolls disappear, you'll know why.
Are sexually explicit, abusive or otherwise objectionable.
Contains inappropriate or vulgar language that is likely to offend.
Break the law or condone or encourage unlawful activity. This includes breach of copyright, defamation and contempt of court.
Advertise products or services for profit.
Are seen to impersonate someone else.
Repeatedly post the same or similar messages ('spam')
Include personal contact details such as telephone numbers and postal or email addresses.
Include a link or photo that has not been approved by the editor prior to posting.
Are considered campaigning. See also "trolling" above.
Are unrelated to the topic.
NOTES:
Just because your comment doesn't show up right away doesn't mean you're being censored. When you post a comment it must first go through our filtering software. If it fails, your comment goes into a queue for manual approval.
Just because a comment or advertisement is on the site, doesn't mean WCI endorses it.
The above rules are not intended to stop criticism or dissenters, but rather to stop those who are incapable of participating in a civilized manner.
*Trolling: a troll is a person who sows discord on the Internet by starting arguments or upsetting people, by posting inflammatory,[1] extraneous, or off-topic messages in an online community (such as a newsgroup, forum, chat room, or blog) with the intent of provoking readers into an emotional response[2] or of otherwise disrupting normal, on-topic discussion,[3] often for the troll's amusement. (source: Wikipedia)
Graphic courtesy Owego Pennysaver Press