Hard work and determination pay-off for Hartford United Soccer Club | By Nolan Woehrer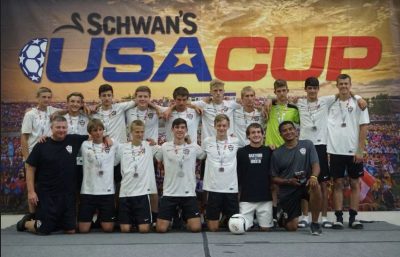 August 2, 2017 – Hartford, WI – It all began in January.  Hartford United Soccer Club (HUSC) joined 16 players and 3 coaches and began training via futsal, an indoor version of small sided soccer designed to work on foot skills and quick thinking.
HUSC U17 Black, trained two hours, twice every week for two-and-a-half months leading the team to dominate its futsal league in Madison.
After an undefeated record in futsal the team continued its training schedule onto the pitch into mid-March.  Rain, sleet, or snow, they practiced.   HUSC had one month until it faced the first league game. At this point, the team was unranked in Wisconsin.
When the team faced its first league game, they made a statement. They won their first two league games before they left Schaumburg, IL for the Nike Cup.
Although they were undefeated in the tournament, they managed to take second in the top U17 bracket.
The players suddenly realized they could compete with some top teams in the region.
With four weeks until the next tournament, bi-weekly practices and league games to prepare, they won three games and lost one.
Although they faced adversity, they trained even harder and put that behind them because they knew they had to prepare for Libertyville Cup.
Through this tournament, they faced teams like the Chicago Fire Academy Team and GLSA 1974. The players didn't seem phased by who they played because they knew if they dug deep enough and played as a team they could beat anyone…and that's what they did.
They took first place at the Libertyville Cup in the top flight.  After that, Hartford United continued winning state league games and will be promoted to the premier league next spring as a result of the 8-1-0 record.  By this time it was mid-June and now they faced their biggest tournament, the USA Cup, mid-July in Minnesota.
Now that school was out for summer, they decided to train from 5:30-7:00 a.m. every Monday and Wednesday morning. For one month they focused on their link up play, etc.
Finally USA Cup arrived, 16 countries were represented in this tournament and the team knew they would face fierce competition.  They played every game as if it was their last. They battled through injuries and were forced to play with only 13 guys.  They won the group stage managing to make it to the quarterfinals. They won and continued on to the semi-finals. Through the semi-final it was close, sit on the edge of your seat game but late in the match they sealed it with a 3-1 win. This was the first time that a Hartford United team ever made it to the finals at the USA Cup.
This was their sixth and final game they'd play at the tournament in 48 hours.
Battling heat, sore, tired muscles, and exhaustion, they put everything they had left onto the pitch, but unfortunately lost 1-3, which put them in second place overall in this very competitive tournament.
Although they lost, they were still in good spirits because they could appreciate playing with the best of the best in a prestigious international tournament and they were right up the best.
After the tournament, according to gotsoccer.com, HUSC U17 Black were 5th in Wisconsin and 81st in the region.
From an unranked team to 5th in the state in a few short months, that is what excellent coaching, hard work, and dedication can do!
I'm proud to be a part of this team! ~ Nolan Woehrer