Hartford Outdoor Movie Night is Wednesday, July 31 at Willowbrook Park | By Samantha Sali
July 31, 2019 – Hartford, WI – Hartford's recently established community group, The Mill, is hosting a free outdoor movie event at Willowbrook Park on Wednesday, July 31, 2019 at dusk.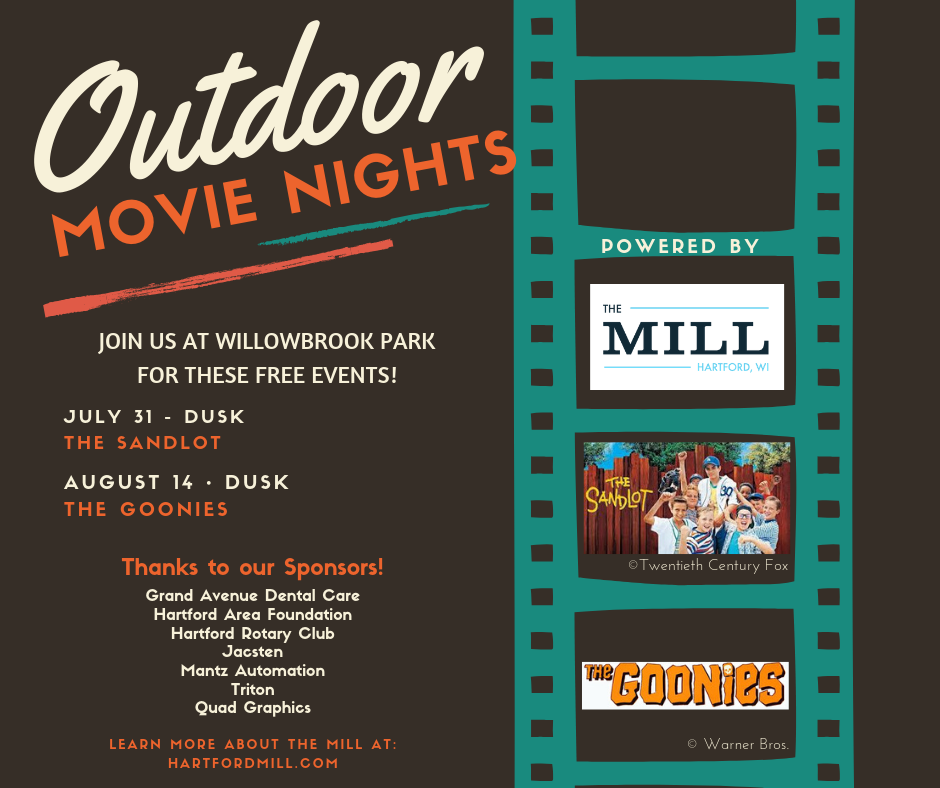 The movie that will be featured on July 31 is The Sandlot. The second movie, which is scheduled to be shown on Wednesday, August 14, is The Goonies.
One of The Mill's representatives, Erin Wilk, shared that both movies were heavily requested on The Mill's Facebook page and they hope to do more "viewers choice" movies in the future. "We'll see what the future holds, but we do want the community to have some input," she said.
"We are basically looking to add some fun events and programming to Hartford that will hopefully be attractive to our current residents and possibly attract people from outside the community as well," said Wilk.
The Mill hopes to expand its Outdoor Movie series, with more movie genres and scheduled movie nights. "We hope to have at least three movies scheduled next summer," said Wilk. "We also might eventually move the movie night to the Mill Pond, which was our initial idea, so that it would be closer to downtown and all the food options it provides. Ideally, people could grab dinner to go, walk to the park, and enjoy a movie on the lawn. That is our future vision."
For now, the two scheduled movies will be at Willowbrook, 774 E. Sumner Street in Hartford, with the enclosed park shelter selling concessions. Visit The Mill's Facebook page by clicking HERE to stay updated on possible rain dates for both nights.