Hartford Rotary names Students of the Month for February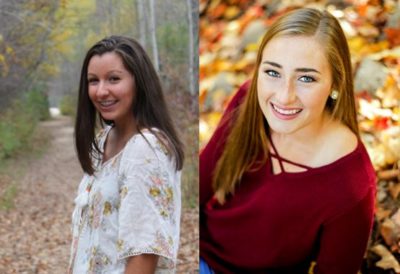 March 8, 2017 – Hartford, WI – The Hartford Rotary Club and Hartford Union High School are pleased to announce that Tiana Dorosz and Megan Kellicut were honored recently as Rotary Students of the Month.  The students were given special recognition for their accomplishments at the Hartford Rotary Club's Thursday noon meetings during the month of February.
Tiana Dorosz is the daughter of John and Diana Dorosz.  Dorosz is a member of the National Honor Society, the Varsity Math Team, the SMART (Students Modeling a Research Topic) Team and participated in the We the People Competition state finals in 2014.  She was a member of the girl's tennis team at HUHS all four years, earning her varsity letter during her senior year.  In 2016, Dorosz received the Key Award for Academic Achievement and Service from the National Honor Society.
Dorosz has given back to her community by volunteering her time as a Floor Assistant at Hartford Hospital and raising money for the American Cancer Society by participating in the Hartford Area Relay for Life the past three years.  She is also a very active youth group member at St. Ofaf Church volunteering for various social events, preparing the activity guide for children at Vacation Bible School, preparing meals and talking with homeless people through Family Promise, and participating on a Mission Trip to Fort Collins, Colorado to relieve flood damage.
After graduation from HUHS, Dorosz plans to attend UW-Eau Claire to major in Biology and participate in a Pre-Professional Health Sciences Program in order to prepare for Physician Assistant School.
Megan Kellicut is the daughter of Anthony and Tina Kellicut.  During her time at HUHS, Kellicut participated in Girl's Tennis all four years.  During her senior year she received WLT honorable mention all-conference honors at #1 doubles.  She is currently a member of the Math Club, the H-Club, the National Honor Society and the FBLA/DECA Club.  Kellicut won a 3rd place award at the We the People State competition during her sophomore year.  Kellicut has participated in a dance program outside of school for the past 14 years performing ballet, tap, and jazz.  She participated last fall in the HUHS Musical production, "Mary Poppins" at the Schauer Arts and Activities Center.
Kellicut has given back to her community by volunteering her time working as a leadership intern at Camp Invention the past four years.  She has also served as a day care helper at Northbrook Church and has volunteered her time at the Lincoln School Fun Fair, the HUHS Toys for Tots Drive, and the HUHS Shamrock Shuffle 5K Run.
Kellicut plans to attend UW-Madison in the fall and double major in Biology and Spanish.  She hopes to one day become a Physician's Assistant.