Hartford Union High School Board approves $2.7M Phase I Master Facilities Improvement Plan | By Teri Kermendy
March 16, 2020 – Hartford, WI – 
Hartford Union High School District Board of Education has approved a $2.7 million Phase I Master Facilities Improvement Plan.  
This proposal is a follow up to the presentation two months ago from Mary Walgren around the master facilities plan.

The plan allows the District to make significant progress in maximizing use of spaces on campus, as well as provide an opportunity to update and renovate spaces in need of work.
The relocation of the offices provides a true secure entry and eliminates opportunities that could pose risk to students and staff.
Phase I
●
Relocate district and high
school
offices, including health office and student services to the area
currently
occupied by the culinary lab and
east
commons space
●
Create a concession
stand
area in the front lobby as well as create
visual symmetry
on the opposite
side
●
Relocate
culinary
lab
and
classroom to space currently occupied by TEE
●
Create a new fitness and wellness center where offices are
currently
located
●
Remodel all
science
classrooms
●
Create new TEE classrooms in
space
currently used for weight room and fitness
●
Remodel 2
nd
bathroom that has outdated/inefficient
structures,
plumbing, and fixtures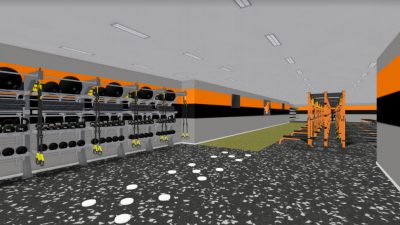 "The most exciting part of this project is we can update 10 science rooms/labs that are 30+ years old and give our students the learning environment they deserve." Jeff Walters, HUHS Superintendent  
"A necessary component is the relocation of offices to the secure entry to truly make it a secure entrance and make better use of a space (East Commons) that was only being utilized for a fraction of the day."
"The relocation of offices opens up an opportunity for our students and staff to have a state-of-the-art facility for our fitness and wellness classes as well as our many athletic programs." Scott Helms, HUHS Athletic and Activities Director  "It also provides a great space for our Health and Physical Education classes who have been spread out throughout the building wherever space was available with inadequate and outdated equipment. This is very exciting for everyone."
Phase I total construction costs: Not to exceed $2,341,430.
Phase I Furniture, Equipment, and Fitness/Wellness Center Flooring: Not to exceed $432,442.
In the General and Capital Expansion Funds, the District has $6M in funds available for Master Facilities Improvements.
The first stages of this approved work will begin in the coming weeks with late Fall as a projected date of completion for all Phase I construction.