Hartford Union High School Day of Service
May 24, 2019 – Hartford, WI – Students and staff of Hartford Union High School participated in a Day of Service this week.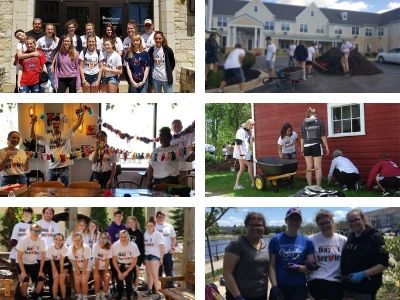 "This is the second annual Day of Service where all 1,300 students and 200+ teachers and staff spend the day doing various things the organization needs," said HUHS Communications Coordinator Teri Kermendy.
The HUHS Day of Service was organized by HUHS staff, Steve Schliewe, Becky Ringhand, Bev Worman, Joanie Buettgen, Emily Schuhmacher, Sara Ruiz, Hannah O'Connor, Jamie Piittmann, and Teri Kermendy.
The students and staff were sent to locations around Washington County, including attending to the Jack Russell Memorial Library property, helping out at Cedar Community, creating displays of yarn and performing music at the Volunteer Center of WC, landscape beautification at Richfield Historical Society, landscaping at Gardens of Hartford, and engaging in multiple opportunities at Family Promise.
All Locations of HUHS Day of Service: Adult Day Care – 1022 Club, Alpine Garden, API Healthcare, Ashford Residence, Aurora Medical Center Hartford, Berndt – Ledesma Funeral Home, Blue Lotus Farm, Camp Minikani, Camp Silverbrook, Camp Winding River, Casa Guadalupe, Cathy Feutz's Parents, Cedar Community, Cemetarians, Centennial Park, Central Middle School,Chamber of Commerce, Chandelier Ballroom, City Hall, City of Hartford – Sewer and Water, Divine Savior Lutheran Church, DNR unit Horicon Marsh (south), Downtown Basket/Urn Planting, Downtown Hartford Business Improvement District, Downtown Sweeping, East Welcome Sign, Energizers Dream Center, Erin School, Faith & Giggles, Family Promise – West Bend, First United Methodist Church, Gehring's Farm, Gehring's Stone House Dairy, Hartford Police Department, Hartford Senior Center, Hartford Square II, Hartford Town Hall, HNR Elementary, Hoffmann's (Garden), Holy Hill School District, Honor Elementary School, Honor Intermediate School, HUHS, Independence Park Sign, InterFaith Caregivers, Jack Russell Library, Kettle Hills Golf Course, Lac Lawrann, Life of Hope, Lincoln Elementary, Lion's Monument, Majestic Heights Assisted Living, Neosho Pond Association, Northern Unit of Horicon Marsh, O'Meara Law Firm, Operation Christmas Child, Ozaukee Washington County Land Trust, Peace Lutheran Church, Piggly Wiggly, Pike Lake, Quad Graphics, Rainbows End Farm, Redeemer Lutheran, Richfield Historical Park, Rides & Reins, Riveredge Nature Center, Riverwalk, Rossmann Elementary, Rotary Gazebo, Rubicon Baseball Club, Saint Mary of the Hill, Samaritan Nursing Home, Schauer Center, Schauer Grounds, Serenity Villa, Soccer Sign, St. Aiden's Church, St. Gabriel's School & Parish, St. Kilian's School, St. Lawrence Catholic Church, St. Olaf's Church, Strupp Farm, Support our Troops, Sycamore Tree, The Gardens of Hartford, The Ranch Bar & Grill, Trinity Community Center, Trinity Lutheran Church, United Way, Veteran's Aquatic Center Sign, Volunteer Center of Washington County, Wagner Residence, Walkway between Douglas & Mineshaft, Wanakia Wildlife Rehabilitation, Washington Co. Fair Grounds (2), Washington Co. Humane Society, Washington County Golf Course, Wellington Place, West Welcome Sign, Woodlawn Cemetary, Youth & Family Project, Zachariah's Acres