Hartford Union High School District CNA classroom ready for new school year | By Teri Kermendy
August 13, 2019 – Hartford, WI – Hartford Union High School (HUHS) is excited to announce the CNA classroom is ready for the new school year.
For the first time students at HUHS are able to earn the Certified Nursing Assistant (CNA) certification as part of a normal school day and earn MPTC credits and elective credits.  The classroom was the final piece of this program.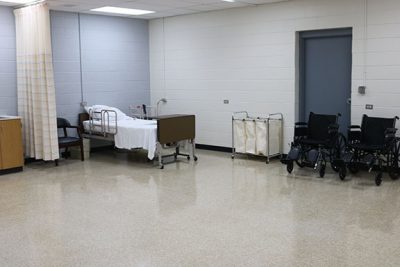 The CNA course is a semester long course in which 15 students first semester are enrolled and 16 students second semester.  Students will earn three MPTC credits and 1 HUHS elective credit for taking this course.
"Having this course at HUHS is a huge convenience for our students," said Jon Duhr, director of teaching and learning.  "In the past, students were driving to Beaver Dam to take this course and driving 45 minutes for nine weeks in the middle of winter."
"This is a fantastic opportunity for students," said Duhr.  "Once students complete the certification they can begin working as a CNA right away which is really important to our local health care facilities looking to fill those much-needed positions.  Students interested in pursuing a career in the medical field, can use this certification as a stepping stone for their future."
The instructor for this course is Tina Cordell from Moraine Park Technical College.
"We'd like to thank all of the supporters for this project, without them this would not be possible," said Duhr.
The equipment needed for the course were provided from funds from the Carl Perkins Grant, Aurora, (specifically Hailey Nenonen and Karen Bialas), Cheribini and from Medical Staff of Aurora Medical Center Washington County.