Hartford Union High School's Mike Corrie receives State award | By Teri Kermendy
January 28, 2020 – Hartford, WI – Hartford Union High School's Director of Student Services, Mike Corrie, was selected for the Wisconsin School Counselor Association (WSCA) Administrator Award.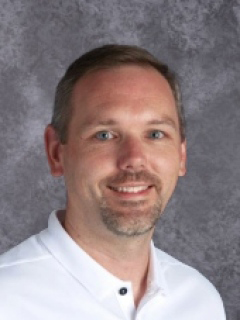 Corrie was nominated by the HUHS counselors, Kari Erickson, Elizabeth Figarsky, Holly Oleshko, and Michael Schmidt.
"I'm truly honored to receive this award from WSCA. This recognition provides a special opportunity to celebrate the hard work of our school counselors and other student services team members," said Corrie.  "I'm incredibly proud of our team's commitment to each other and to our students and families as we focus on improving student outcomes in academics, career and life readiness, and social/emotional skills.  I'm genuinely grateful for the encouragement and support from my family and my colleagues as they are critical partners in our teams' success."
"This year we had tough decisions because we received so many outstanding applications," said Lauren Schultz, Scholarship and Professional Recognition Director for the WSCA. "We would like to congratulate you on being selected for our 2019-2020 award. This is a great honor and we are proud to recognize the work that you do. Thank you for supporting school counselors."
Corrie will accept the award at the annual conference February 19 at 8:30 a.m. at the Monona Conference Center in Madison.