Hartford weekly update: Papers due Tuesday, Jan. 3 for Spring election By Steve Volkert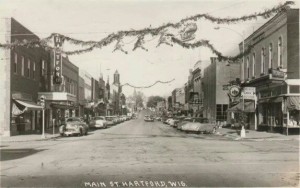 Dec. 30, 2016 – Hartford, WI – Administrator's Comments: This week, most of the Department Heads came in for their first self-evaluation. This is a process by which we discuss their goals and how I can work with them to achieve them. This process is meant to help me as much as it does them.
Finance Department has had a steady flow for tax collection. Our staff has kept the lines moving with very little wait at the counter.
Sidewalk notices sent out early for 2017 maintenance plan: The 2017 Sidewalk Improvement notices were sent out this week in hopes of getting a jump start on the annual process. By getting notices out earlier, it is hoped that an earlier bid can go out from the City thus hopefully getting less expensive bids. This is the fourth year of the sidewalk program.
Sewer Utility testing option for phosphorus removal that could save thousands: The Sewer Utility is testing out a new poly aluminum chloride which would replace the previously approved Sorbx 100 for the mandatory removal of phosphorus from the outflow water. The Utility has been the front runner on using Sorbx 100 to relieve the City from installing costly equipment upgrades for the reduction of phosphorus. Now, this new product, has been found by other municipal utilities to create the same result for a substantially lower cost per gallon. If the test proves positive, the Utility could save upwards of $100k in costs in 2017.
Tuesday, Jan. 3, 2017 at 5 p.m. deadline to file papers for Spring election: Anyone that wishes to file papers for the Spring election of four alderpersons has until Tuesday at 5 p.m. To date, all four incumbents have filed their papers for candidacy with no other challengers taking out or handing in papers.