November 8, 2021 – Hartford, WI –  It is incredibly rare for an individual athlete to make a varsity team their freshman year. Rarer still is the ability of athlete to maintain the physical and academic standard required to play varsity sports and do so all four years of high school.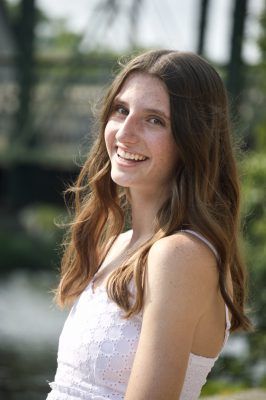 Hartford senior Riley Hamilton has done just that. As captain of the girls varsity volleyball team Hamilton has been named 1st Team All-Conference in the North Shore as well as the 2021 North Shore Conference Player of the Year.
Click HERE for a full list of the 2021 North Shore All-Conference volleyball team
Statistically Hamilton had her best year offensively, most notably as an attacker, with the second most kills in the conference (430) and a 42.2 kill percentage.
Hamilton has also shown growth as a player as her statistics improved steadily each year.
Opposing coaches, like Debbie Butschlick from West Bend West said Hamilton was consistently impressive on the court. "Riley is a great all around player who doesn't get flustered.  She is also a team player.  As I watched Riley play, she was always very positive toward her teammates," she said.
Hartford's varsity volleyball team may have ended its season in the WIAA sectional round this year, but the Orioles finished with an impressive 15-3 overall record and a 7-2 record in conference play.
In 2020, the Orioles won the North Shore Conference during Hamilton's junior season;  although a shortened season, it could be argued had a full season played out Hamilton would have had an even more statistically impressive season than her senior one.
A prime example of this is Hamilton's serving, particularly aces. In the 59 sets played in the 2020 season Hamilton served the ball 202 times with 27 aces and a 92.1 serving percentage.
In 2021 Hamilton had 361 serving attempts, scored a career-high 49 serving aces and finished with a 92.2 serving percentage.
As a leader Hamilton's consistency helped Hartford to remain consistently competitive.
While Hamilton and Hartford never made it beyond the opening of the WIAA sectionals the team never missed the playoffs during her tenure as a player. 
Academically Hamilton is a member of the National Honor Society and President of the H-Club at HUHS.  She is currently ranked first in her class academically and was named four times First Team All-Conference and 2 times Honorable Mention All-State in volleyball.
Over the summer, Hamilton volunteered to help coach at the Hartford youth volleyball camps, helped set up and run game stations at Ozzy Fest, helped organize local blood drives, and helped lay mulch at the Sycamore Tree Daycare.
After graduation from HUHS, Hamilton plans to attend Loyola University in Maryland to play volleyball. Hamilton plans to pursue a degree in Actuarial Sciences because she really enjoys math.
Editor's note: Janet Jocham helped contribute to this story.
Work or the content on WashingtonCountyInsider.com cannot be downloaded, printed, or copied. The work or content on WashingtonCountyInsider.com prohibits the end user to download, print, or otherwise distribute copies.