Hilda Rasmussen from West Bend completes the Stars & Stripes Honor Flight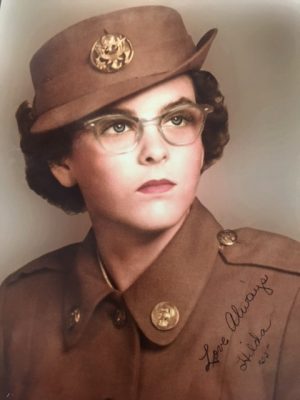 Oct. 21, 2017 – Washington Co., WI – Korean War veteran Hilda Rasmussen of West Bend was one of 11 veterans from Washington County on last Saturday's Stars & Stripes Honor Flight to Washington D.C.
Rasmussen was 20 years old when she enlisted in the Army. A southerner who grew up in North Carolina and Virginia, Rasmussen was working at Rose's Five and Dime when a friend whose sister was in the Army suggested she join so she could finish school.
"I enlisted against my parents' wishes," said Rasmussen. "My mom had breast cancer and there just wasn't any money for school. It was hard to get jobs because there were so many wives from the Navy base looking to get jobs."
Rasmussen said she and her friend were going to go into the service on the Buddy Plan, which meant if two people went in together the military kept them together during service.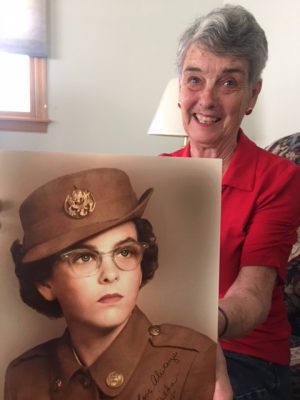 "I came home and told my parents and that didn't go well," said Rasmussen. Adopting a stern voice she mimicked her mother's response. "No you're not," she barked. "That's not something a young lady does."
Rasmussen was upset and later that night had a change of heart when she heard her mother crying. "The next morning at breakfast I told them I prayed about it and didn't want them to be disappointed in me and said I wasn't going," she said.
Rasmussen's mother had a change of heart too and gave her daughter the OK. "We're not going to have it said we wouldn't let you do what you wanted so you're going," Rasmussen recalled.
A graduate of Deep Creek High School in Deep Creek, Virginia a young Rasmussen left the cotton and tobacco fields and headed to basic training at Fort McClellan in Anniston, Alabama.
With a goal to continue her education, Rasmussen attended correspondence school at Fort Belvoir, Virginia. She worked in courts and boards and eventually ended up in food service.
A petite soldier who "didn't even wear a size one dress" Rasmussen was known to colleagues as 'Danni.'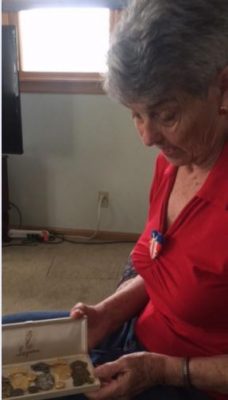 "It was short for Daniel Boone," said Rasmussen. "I did pretty well on the rifle range as a sharpshooter."
Rasmussen pulls out a small, narrow white box full of medals labeled sharpshooter and marksmen; these were post Army service and something she earned when she joined the NRA.
"I had boys after the service and I didn't want to stay home," she said. "I went to NRA classes so I could go hunting with them."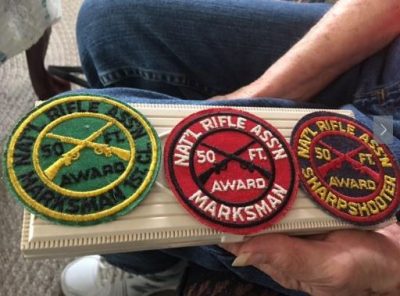 Rasmussen picked up her military story with details on her years in food service and how on Sundays the stewards from various mess halls would invite her over to eat. "They had linen table cloths and real china and they made special desserts for me," she said laughing. "I had some of the most luscious desserts you ever tasted."
Following on Sunday feast at the Air Force mess hall, Rasmussen was challenged to leave like everyone leaves in the Air Force. "They made me jump out of a tower," she said.
Hooked up to a harness with a parachute Rasmussen was fearless. "The only thing was I came in uniform that day and I was wearing a skirt," she said. "I had two pins in my purse and I pinned my skirt like culottes. I think every man in that mess hall stayed that day to see me jump."
Rasmussen relays her stories while perched on the edge of her living room couch. Her memories are detailed and her speech pattern is a bit rushed with excitement.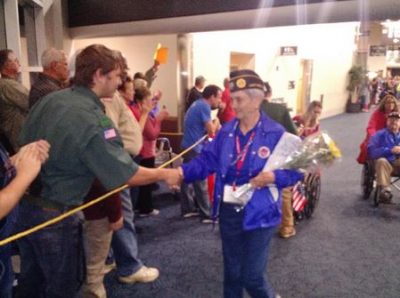 Rasmussen spent her entire military career stateside at Fort Belvoir. She met her husband, who was also stationed at the base. They married March 17 so the military wouldn't send her overseas to Germany.
After her discharge on July 12, 1956, Rasmussen worked for specifications at Fort Belvoir and later spent nearly five years just outside Washington D.C. as military air-transport service for the plane for the President of the United States.
"I really liked that job," she said. "There were four girls in the office and 12 men. The building was basically a Quonset hut," laughed Rasmussen.
In 1960, Rasmussen and her husband moved to the Campbellsport area. "I started my first job at Local Loan Finance Company in Milwaukee. I worked at 21st and North Avenue and I was there 15 years and we were robbed five times," she said.
As years past Rasmussen's life changed. Her first husband died and she later remarried. She had two sons and one was killed in a traffic accident in California.
Rasmussen lives with her other son Kevin Nelson. He was her guardian on the Honor Flight.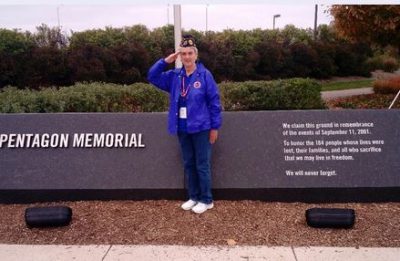 Other veterans from Washington County on the Honor Flight included:  Tom Landvatter, West Bend, Korean War Army fire control repairman, Charles Sawyer, Germantown, Korean War Marines 1st Marine Div teletype operator, Ron Pollpeter, Germantown, Korean War Navy fireman, Norman Toll, Slinger, Korean War Marines teletype operator, Procopio "Nick" Sandoval, West Bend Vietnam War Army, Mark Cayner, Kewaskum, Vietnam War Army MP, Mike Orban, West Bend, Vietnam War Army, infantry, Bronze Star, PTSD speaker.
This was the 42nd "mission" for the Honor Flight since 2008.  There were 90 Korean War vets on the flight along with 10 WWII and 50 Vietnam War veterans.