History lost: West Bend Germanfest mural is disposed of… "I think they burned it"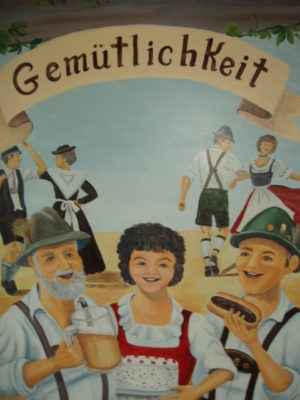 Dec. 8, 2016 – West Bend, WI – A news tip came in last week that hit me like a punch in the gut. Someone said the Germanfest painting by Eileen Eckert that hung on the building on Walnut Street had been destroyed.
A simple call to Eckert proved it was true.
"I think they burned it," said Eckert. "It told them to a couple years ago to get rid of it and it looks like they finally did it."
The three-panel mural dated to 2007; it was a commemoration to downtown West Bend's annual Germanfest celebration. The middle panel featured Ernst Frankenberg hoisting a frothy stein of beer.
"I never met Ernst but struck up a kinship with him because of our similar German heritage," said Eckert who painted Frankenberg from a photo. The mural featured Frankenberg in a traditional green German hat and lederhosen.
"Lu Harder gave me a bunch of photos to help flush out the local German flavor and I picked Ernst because he depicted what I wanted to portray with his connection to Sprecher, beer making and Germanfest ," said Eckert.
"That painting was in such bad shape," said Eckert. "It wasn't meant to be outdoors all the time but it was such a monster to put up and take down."
The painting measured 8-feet high and 12-feet long. "If I ever would do it again I would have made it in three separate panels," she said. "The bottom was a 2 x 4 and that was just Masonite and it got wet on the bottom and it wicked up."
Asked whether she was working on something else to replace it, Eckert said no. "Nobody from Habitat for Humanity (the organization that took over Germanfest in 2016) has contacted me," she said. "I was waiting and if they would want me to do something, winter is when I can do things, but nobody has contacted me."
Eckert said she asked Germanfest organizers to remove the painting several years ago. She was told "the community loves it."
"At least my name weathered off so I was less embarrassed by it," said Eckert.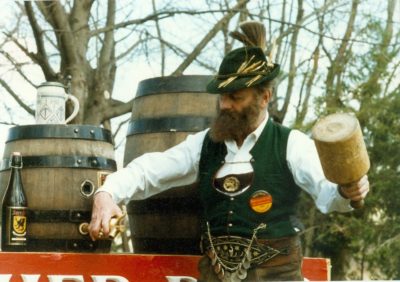 Herb Tennies, the founder of Germanfest, said storage of the painting also became a problem.
The mural hung for years on the south side of the building on Walnut Street that used to be home to Mehring's Fish Market.
On a history note: Ernst Frankenberg died Jan. 1, 2009 at the Cedar Lake Health Center.