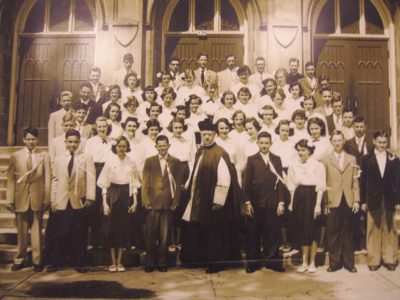 Jan. 27, 2017 – West Bend, WI – During the week beginning January 29, Holy Angels in West Bend will join schools throughout the country in celebrating Catholic Schools Week.
The local theme for the West Bend Catholic schools is again "The Good News in Education."  With many changes taking place in public schools across the state, Catholic schools continue to be the good news in what schools can provide. 
In addition to a strong core curriculum, there is a continued emphasis at Holy Angels on fine arts and world languages.  Holy Angels students use a variety of technologies as tools for learning…junior high students use personal Chromebooks as part of their daily experience.
The Project Lead the Way curriculum  Robotics Club offer pre-engineering components for junior high students. The HABC broadcasting club creates news programs for broadcast. The Resource Learning Centers provide a multitude of enrichment opportunities and additional learning support.
Over and above the curriculum, the Catholic faith is emphasized at Holy Angels: strong moral values, Catholic social teaching and service, and respect for life. The entire community has been emphasizing the call to show our faith by our works. In particular, school families will again provide Meals on Wheels in connection with CSW. 
During Catholic Schools Week, we will celebrate many of the important aspects of our school which make it special…academics, faith formation, extra-curriculars, community building, family involvement. 
The week's activities will include:
Saturday, Jan. 28 – CSW Kickoff Celebration (5:00-8:00pm). 
Sunday, Jan.. 29 – Distinguished Graduate Award presentation;
     Open House (10:30 a.m.-12:30 p.m.)
     Kindergarten–K3, K4, K5-RoundUp (10:45 a.m.)
Monday, Jan. 30 – Catholic Quiz Bowl (8:25 – primary, 9:10 – intermediate, 10:30 – junior high);
Tuesday, Jan. 31 – Career Day
Wednesday, Feb. 1 – Fun4All Day: bowling, swimming, skating, and tubing
Thursday, Feb. 2 – All-City Mass at Holy Angels
Friday, Feb. 3 – Student/Faculty Basketball Game (1:40 p.m.).
Photo courtesy Dan Berres