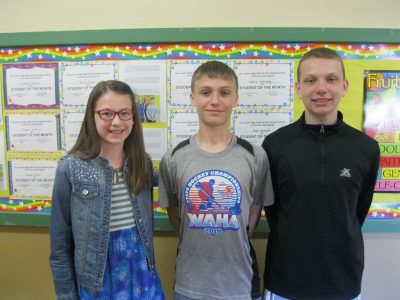 May 8, 2017 – West Bend, WI – Holy Angels Student of the Month for April include Emily Rauch, Alex Gonzalez and Nate Waech.
6th – Emily Rauch – Emily is a kind and friendly person who combines these personality traits with hard work and effort. She is not afraid to ask for help or clarification and always turns in high-quality work. She likes school, especially reading and social studies. She serves at school Masses. Outside of school, she is passionate about figure skating and enjoys art.  She is considering nursing as a career.
7th – Alex Gonzalez – Alex is smart and outgoing, with a lot of energy. He is a willing and positive participant in class activities. This year, his teachers notice that he has greater focus and is increasingly able to stay on task, work well in groups, and accomplish learning goals. Alex has a great sense of humor and projects a happy persona. Alex enjoys forensics, sports and video games. He serves on student council. He has excelled during the engineering and robotics unit of science and says he wants to grow up to be an architectural engineer.
8th – Nate Waech – Nate is a polite, confident, likable student. He likes interacting with both peers and adults, and describes himself as outgoing. Recently he chose to teach a social studies lesson because he is interested in teaching as a possible career (if he doesn't make it as a soccer pro). In fact, soccer is a passion of his, although he also enjoys a variety of other sports. Academically, Nate is very consistent in performance, participates well in class and works well in groups. Nate is helpful at school, working as a patrol and serving at Mass.