Washington County, WI – On Saturday, April 22, 2023, 72-year-old Air Force veteran James Hosking of Hartford, WI, will be joining other vets on the Stars & Stripes Honor Flight along with an appointed chaperone.
Just a few months shy of turning 19, Hosking enlisted in the Air Force in 1969 and spent a total of 3.5 years as a weapons specialist for F4 Phantom jet fighters.
Click HERE and subscribe to FREE local news at

Washington County Insider on YouTube
Upon discharge, he attained the rank of sergeant and earned the Presidential Unit Citation and Good Conduct Medal.
During the Vietnam War, Hosking was stationed in Germany, first at Hahn Air Force Base, then in Zweibrücken when his squadron, the 81st Tactical Fighter Squadron, was moved there.
Hosking has been married to his wife, Patricia, for 47 years.
Following his term of service, Hosking worked for Pabst Brewing Company until they closed. He went on to earn his diploma for tool and die and worked at Mercury Marine in Fond du lac until the plant issued layoffs.
Hosking is one of eight veterans from Washington County, WI on the

April 22, Honor Flight
Hosking's trek to Washington DC on April 22 is personal for him. He plans to check out the Vietnam Veteran's Wall Memorial to locate his cousin, Charles Hosking, who was killed in Vietnam; Charles earned a Congressional Medal of Honor for his service. Hosking said, "I have 2-3 friends who were killed in Vietnam and I'm going to look for their names on the Vietnam Wall, too."
"My father-in-law was stationed in Pearl Harbor three days after the attack. He served on the USS Maryland in the Navy," said Hosking, "His ship was torpedoed; kamikazes hit it twice.
"We tried to get him to go on the Honor Flight. He passed away two years ago so I told my wife I was going in his honor," Hosking said.
Being stationed in Germany allowed Hosking to travel throughout Europe. "Our squadron would go for training and have temporary duty at different bases. I went to France, Germany, Italy, Sardinia, Spain, Amsterdam, Oktoberfest in Munich, and many other places," said Hosking.
Hosking spent time at the Siegfried Line, which was the main defense of Germany during WWII. "Outside of the base we could see bunkers all blown up and caved in," said Hosking, "On our base, they were digging a new BOQ for officers. They found a bunker that had collapsed and there was a dead German soldier in uniform in it along with some ammunition. The Department of Defense (DOD) had to take out all the ammo and blow it up."
Hosking reminisced about his shenanigans during Oktoberfest, "We arrived at the Hofbrau Haus at 9 a.m. with my buddied and didn't leave until 8:30 p.m. that night.
"We were so bombed we couldn't remember where the hotel was so we slept in the park for a while. Then it rained so we got into my buddy's Volkswagen and slept there. The next morning, we found our hotel."
During his time in Germany, Hosking said the older Germans that experienced the Americans bombing the city of Zweibrucken where they lived has never been forgotten and there is a bit of a cold shoulder feel from them. The younger Germans were more open and friendly, not having experienced the historical devastation of the area as their elder generation.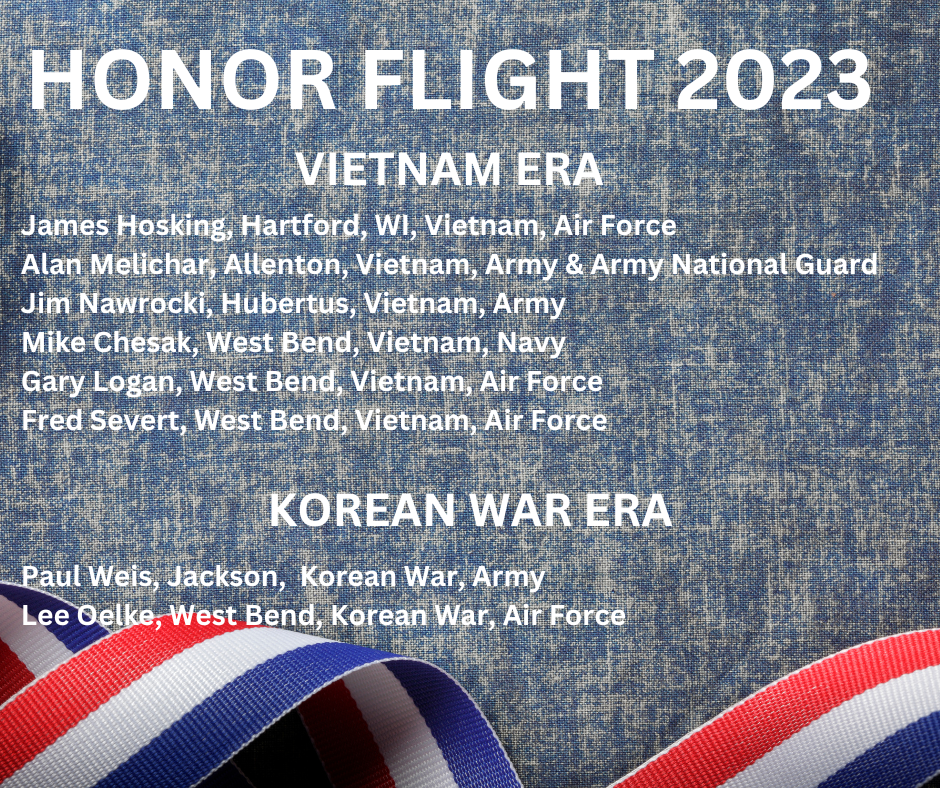 Stars and Stripes Honor Flight is the Milwaukee area hub of the Honor Flight Network.  Founded in 2008, Stars and Stripes Honor Flight has flown more than 7,600 WWII, Korean War, and Vietnam War veterans from southeastern Wisconsin on a one-day, all-expense-paid trip to Washington D.C.