November 10, 2020 – Washington Co., WI – Thanks for all the healing you are helping to facilitate.  So many of these veterans, especially the Vietnam ones, don't even realize the healing they need.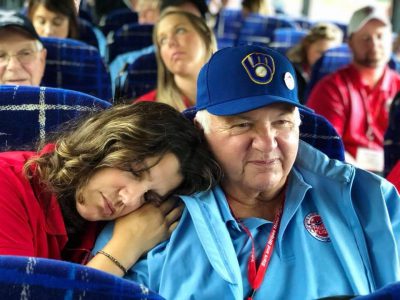 Back in October I had a personal reflection regarding the Honor Flight experience.
I still feel a stab in my heart thinking back to the morning of my Dad's Honor Flight.
We stayed by his sister & brother-in-law and they were driving us in the dark morning hours to the airport.
Dad and I were in the backseat and he looked over to me and asked quietly, "So all these people at the airport will know I was in Vietnam?"
I responded yes, since the Honor Flight color codes your jackets, the pale blue signifies Vietnam.  He was very serious, which is not his demeanor typically, and after a short time thinking about it he looked back at me and said, "Just so you know, they are going to say really nasty things to me that you shouldn't hear."
He truly still thought that was going to be the experience and was trying to shield me from it.  I just took his hand and said, "Not today, Dad, not this time."
When we landed and got off to the first round of people smiling and reaching out to thank dad and shake his hand, he only made it a few people in and had to move away.
He turned back to me with tears in his eyes and fighting so hard to keep composure said, "No one has ever thanked me before."
I've never been so humbled and ashamed.
Wittenberger Bus was generous upon asking and donated a bus to take Dad's family (he is the youngest of 11) and friends from the Rubicon area to the Homecoming in Milwaukee, unbeknownst to him.
Toward the end of the incredible walk of celebration home at the end of a truly life changing day – from "hosing down of the plane honor" (I can't remember the correct name for that), through the heartfelt silent salute from what had to be hundreds of kind eyes that shared my tears, to the boy scout gifting, the grand gala of a booming patriotic band, to the Marilyn Monroe greeting kiss, vets and loved ones flanking the isles … he saw his family waiting and waiving for him toward the end.
Stars and stripes caught his expression as he realized the depth of who was there, through their amazing attention to every detail.
My dad was able to be welcomed home, 50 years later, in a way that was so deserved but wasn't possible the first time – when one sister picked him up after officers spit on his shoes for that homecoming.
My Dad and I are very close.  In my 43 years with him before that flight, I had heard things about his time in service perhaps a dozen times.  Since the flight, in the past 5 months, he brings up a memory (good and bad) at least 3 out of the 5 times I see him in a week.
I recall in my lifetime seeing him cry maybe once.  Now he tears up but to my gratitude. It is incredible the damn that has burst, the processing and healing that has taken its place.
I will FOREVER be grateful to the Honor Flight and have pledged to spread its amazingness and help fund future veteran flights.
Thank you for giving me another opportunity by thanking you and your role in thanking all the deserving veterans.
Thank you for giving me another opportunity by thanking you and your role in thanking all the deserving veterans.