Washington County, WI – Diane Hupfer (nee Schloemer) of West Bend and Darren Schacht of Milwaukee, two passionate genealogists, meet by chance at the Washington County Historical Society and discover not only do they have a distant family connection but they each possess information that could help the other flesh out a clearer picture of their shared relatives, nearly 80 years since that generation had passed.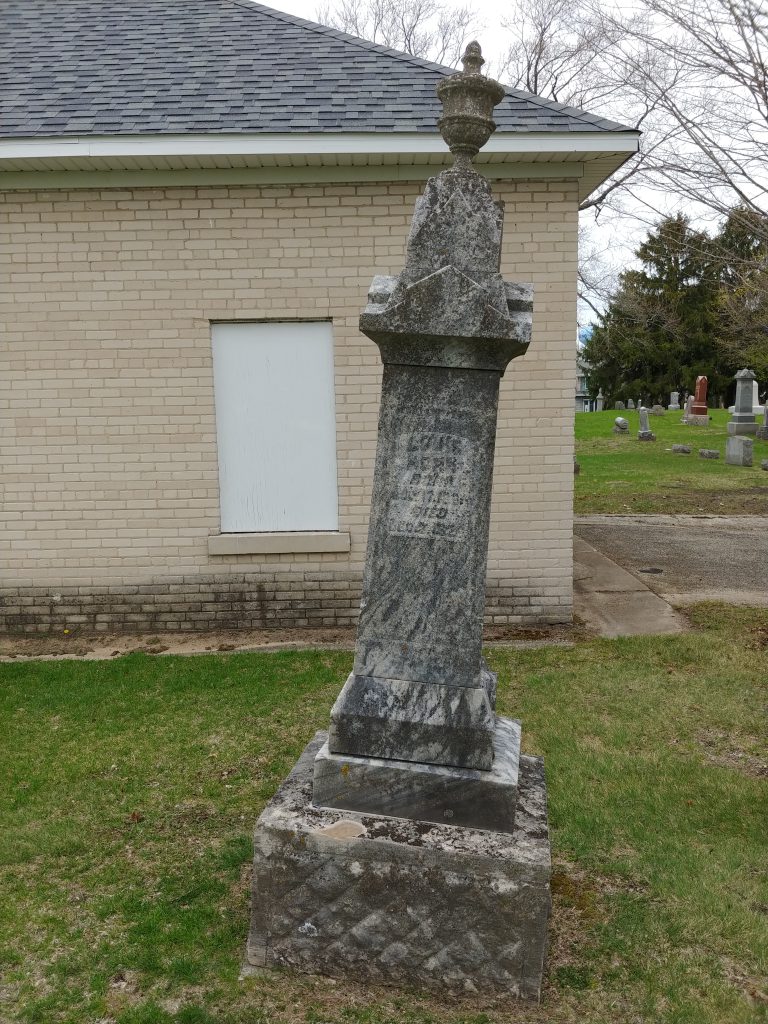 Schacht's late mother, Marion Schacht, was a regular volunteer at the Historical Society and overheard Schloemer Hupfer discussing her family background with former director, Gene Wendelborn, as part of her induction as a new volunteer. Suspecting a family connection, Marion introduced Schloemer Hupfer and Schacht and their collaboration began. After several years of pooling resources, Schacht and Schloemer Hupfer were able to put faces to the genealogical record and more exciting, a narrative to their distant ancestors' lives.
In the process, they became great friends, so much so that when Marion Schacht was no longer physically able to work at the Historical Society, Schloemer Hupfer brought homework for her so she could continue to contribute.
The connection they discovered, separated by three generations, was the Frederick Horn Family, who settled in Keown's Corners in the town of Jackson in the second half of the 1800s.
While Darren had assembled a detailed accounting of this part of his lineage, mostly names and dates, he lacked photographs or oral history. Diane was able to supply a box of documents and photographs inherited from her parent's estate, which hadn't been opened for a generation.
She also possessed journaled recollections from her uncle, Clyde Schloemer (former mayor of West Bend, WI from 1940-1948, and founder of the Schloemer Law Offices). Some of the photos were identified but many were not.
Comparing Schloemer Hupfer's photos with Schacht's extensive photo collection of other parts of his family, they were able to complete most of the pieces of the puzzle and an interesting family narrative emerged with supporting images.
Click HERE to SUBSCRIBE to FREE local news at
As part of their research and documentation, Schacht became aware of the deteriorating condition of the Horn Family monument in the Union Cemetery in West Bend and was concerned.
Armed with a new understanding of his ancestors and feeling a familial friendship with Schloemer Hupfer, Schacht was compelled to find a way to preserve the stone for generations to come. After consulting with Wally Miller of Miller Monument Company in Jackson WI., it was decided the monument should be disassembled, cleaned and reinstalled on a new foundation constructed for maximum stability. The work was completed on August 30, 2022.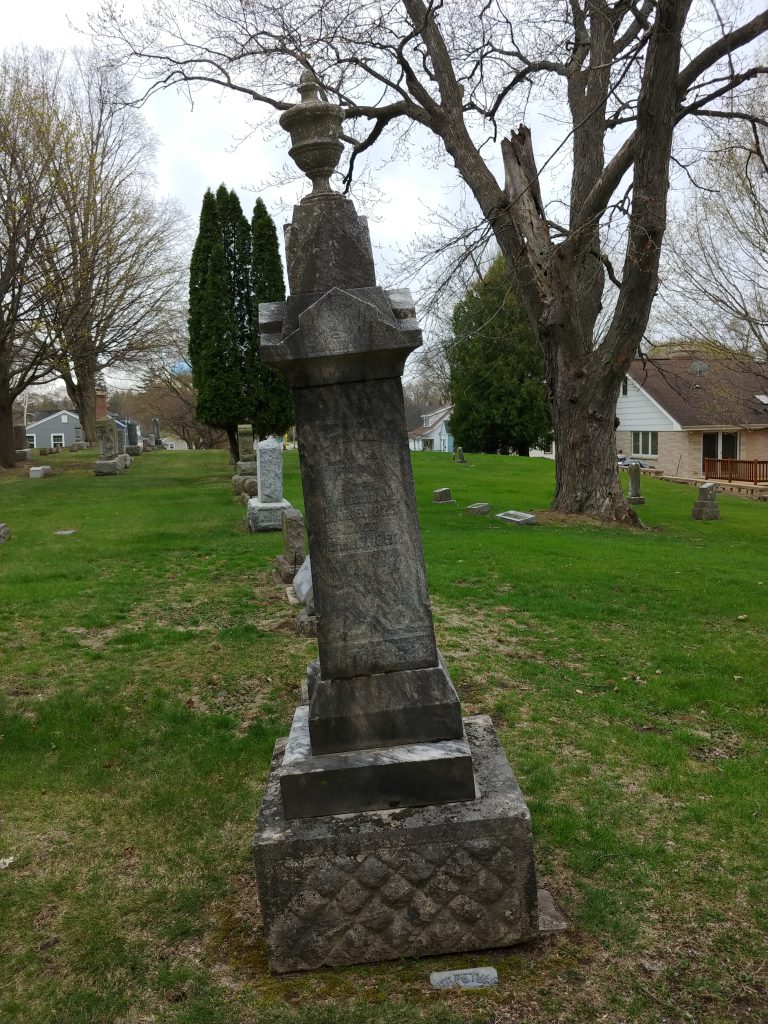 Brian Lewitzke and Bradon Koepke from Miller Monument putting the base in place.
(Excerpt from the written recollections of the Frederick Horn Family, by Clyde Schloemer)
The following story was told to Clyde Schloemer by his mother, Isabelle Burckardt Schloemer (grandmother of Diane Schloemer Hupfer), and his grandmother Augusta Horn Burckardt, sister to Louisa Horn Schacht (great grandmother of Darren Schacht).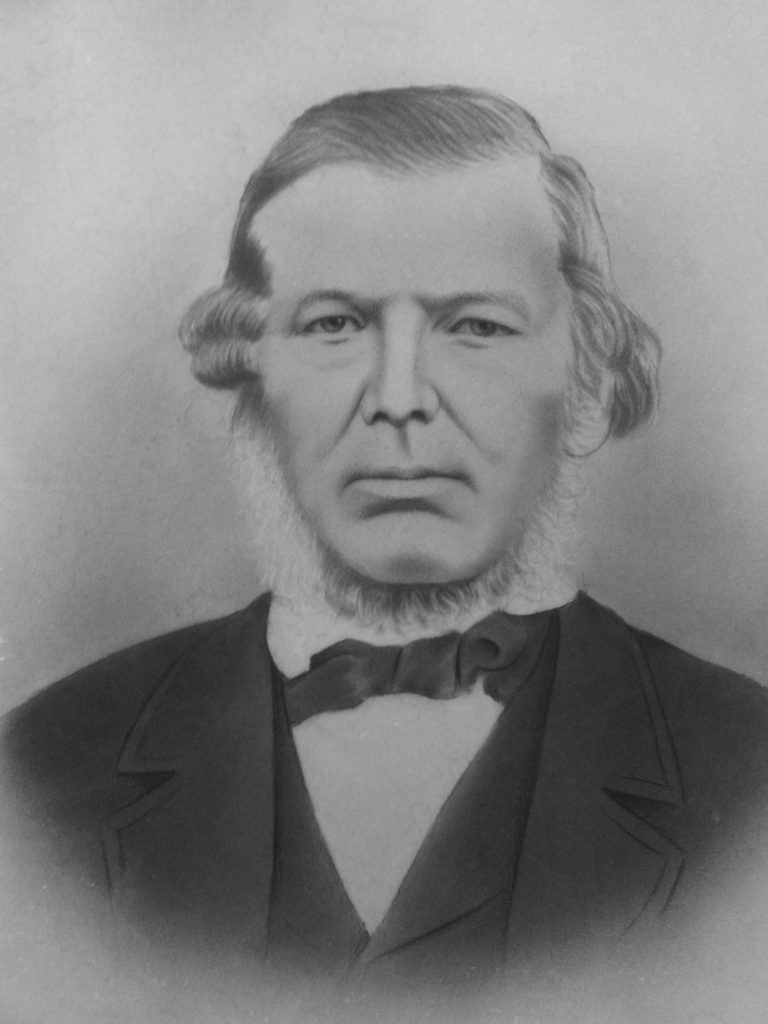 "A large group of people from the village of Lobenstein, Germany came over to Wisconsin at one time to resettle.  Frederick Horn could not legally go with them because he had not completed his military duties.  His neighbors hid him in a wooden barrel as cargo and had him carried on to the boat and had him stay hidden until the boat had gone far into the Atlantic; then they released him and brought him along to America.  He must have apparently made peace with the ship's officers and the immigration people so that he would not be returned to Germany.
"Frederick first settled in Quebec in 1845 and later in 1846 he came to Wisconsin.  He worked as a hired hand for some farmers south of Keown's Corners and took land for most of his wages.  My mother always said that when he acquired 160 acres of woodland and a small log house, his neighbors all worried that he had no wife and there was nobody around to marry.
"One day a neighbor came in and told Frederick Horn that there was a new hired girl near West Bend who would make a good wife for him.  She worked for Mr. and Mrs. Samuel Dowland, who lived a mile or so southeast of West Bend.
"Mrs. Dowland was born in Harbor Grace Newfoundland and moved to the town of Trenton in 1849, "when this country was a vast wilderness" as reported in her death notice of which Odessa Schloemer has a copy.
"Mrs. Dowland brought with her a hired girl, Louisa Webber, who was born in Harbor Grace
Newfoundland in 1826 and came to Wisconsin in 1850.  I remember my Grandma Augusta Horn Burckardt often telling that her father was interested in this new prospect and rode his horse up to the Dowland house to check it out for himself.
"He found this girl all right, but she could not speak German and he could not speak English.  However, "cupid must have been hanging around" because after a couple of hours they decided to get married.  He went back home and a week later he came back and picked her up, and she rode with him on his horse to a Justice of the Peace in West Bend; they were married on January 26, 1851.
'Then she rode back on his horse to his log cabin, where they set up housekeeping and had 9 children, two of which died in infancy.  Their children who lived to adulthood were Caroline Horn (Mrs. Henry Salter), William Horn, Augusta Horn (Mrs. John Burckardt), Frank Horn, Louisa Horn (Mrs. Henry Schacht), Charles Horn, and Louis Horn."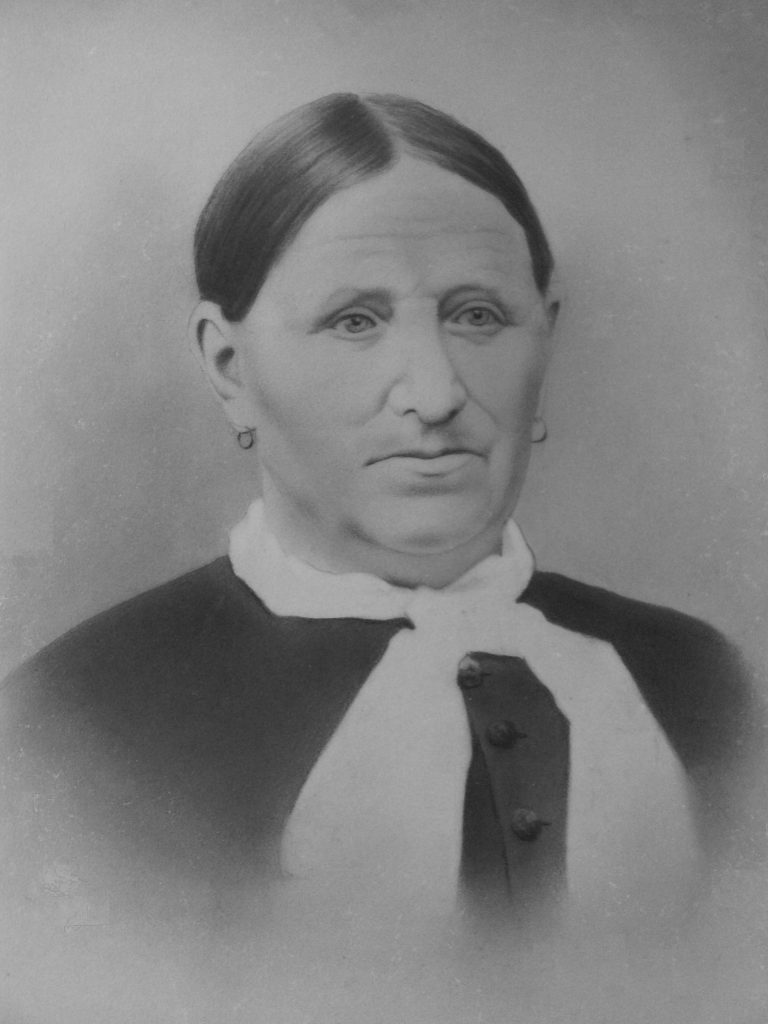 My mother, Isabelle Burckhardt Schloemer, acted as hired girl for her grandfather Frederick
Horn after his wife, Louisa Webber Horn passed away in 1897.  She took care of her grandfather, who was an invalid for 30 years until the time of his death in 1907.
The story was told that he would make "shingles" on the 10-acre swamp and then haul them to West Bend for sale.  On one of those trips in the winter his team of horses ran away and tipped over his bobsled loaded with shingles in the Ahler's Creek and by the time he got out and got his horses together, he was frozen stiff and tried to get help at the neighbors.
He claimed this was the reason why he developed a severe case of arthritis, which made him bedridden for around 30 years.  Isabelle Burckardt Schloemer would tell how her uncle Louis and his brothers would carry him down from his upstairs bedroom and set him on the "front porch" on nice days so he could watch his farm operations.  Several times a year they would get him into a buggy, and he would make inspections of all of his property.  I have a picture taken when one day he was on the porch watching Louis Horn, my mother, Isabelle Burckardt Schloemer, and the Stevens' and Horn girls (from Chicago) watching some of Louis' horses.
(Post-script, Schacht's research revealed a somewhat different accounting of that event:)
The following account of Frederick Horn's accident was recorded in the West Bend newspaper, The Democrat, from March 15, 1876:
"The family of Mr. Fred Horn, of the town of Jackson, have the sympathy of the community in their present affliction.  Mr. Horn is now at the point of death from a paralytic stroke.  Mr. Horn came to West Bend, Tuesday week, and while on his way home between Messrs. Peters and Ahlers farm, was suddenly stricken.  He fell from his wagon and the team, feeling a slackness on the lines, started on the run.  Mr. Ahlers, noticing the runaway team, stopped them and, seeing Mr. Horn lying unconscious on the road, called Mr. Peters.  They placed him in his wagon and drove him home, and he remained in the unconscious state as found until three o'clock next morning.  He is not yet out of danger, and fears are expressed as to his recovery.  Mr. Horn is about 55 years of age, and is an old settler, having resided here 35 years."
Photo credit: Diane Schloemer Hupfer, Darren Schacht