HUHS students receive regional scholastic art and writing awards | By Teri Kermendy
Feb. 5, 2019 – Hartford, WI – Hartford Union High School (HUHS) is pleased to announce the students who have won recognition for their art work at the Regional Scholastic Art and Writing Competition.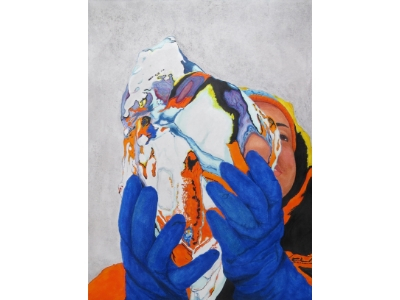 Ms. Dawn Romano-Bloomer's students Vera Miller, Senior, won a Gold Key for her Drawing and Illustration and Chad Robanske, Senior, won Silver for Design. 
The Gold and Silver award pieces will be on display at the Milwaukee Art Museum. The Wisconsin Exhibition will be on-view February 3 through March 18, 2019 in the Schroeder Galleria. Vera Miller's Gold winning drawing will go on to N.Y. for National judging.
Vera Miller describes her piece, "I am Icelandic and feel very strongly about protecting and maintaining the beauty of my country. While visiting family in Iceland we took a trip to Jökulsárlón Lagoon. The tourist hot-spot has been expanding due to the rapid melting of both the Breiðamerkurjökull and Vatnajökull glaciers that feed directly into the lagoon. When our guide raised a piece of ice floating in the water, the bright neon colors of her snowsuit shown through. I simply snapped a picture to recreate it in another medium. Due to Global Warming's impact Iceland's exquisite glaciers will be reduced to a puddle. If we do not come together to find a solution there will be nothing left to illustrate."
Chad Robanske describes his piece, "My piece was originally a design I created for a self-portrait project using pattern. I wanted it to showcase me and who I am and how I was made. I chose to use words/statements that I felt hurt me, built me, and made me. My life has never been perfect as some may think and I wanted to show that. Words that describe problems and statements that showed emotional wounds. These words lie in the background on the posters and over my face in my original piece. Duct tape covers my mouth with rope around my neck to show how though I might seem outgoing I have trouble describing feelings or expressing them truly. The idea with that symbolism is that I'm always trapped in my mind and can't escape." 
"Vera and Chad are both Advanced Placement Studio students who are working hard to create an excellent portfolio of work. I am so excited for them that their work will be in the exhibit at the Milwaukee Art Museum." said Dawn Bloomer.
Miss Kristen Kieckhaefer's students Camila Ewing, Junior, received two Honorable Mentions for Drawing and Illustration. Olivia Meinberg, Junior, also received Honorable Mention for Drawing and Illustration.
"Both Camila Ewing and Olivia Meinberg were in my Drawing I class during first semester of the 2018-2019 school year and both received Honorable Mention for their drawings. The first assigned project, entitled "Reflections," required students to take an original photograph inspired by the concept of reflections and use it as inspiration for a final drawing. Cami drew a picture of a pet turtle while Olivia drew a self-portrait in a mirror, both using colored pencil on pastel paper. Cami received an additional Honorable Mention for a colored pencil drawing of the same pet turtle." said Kristen Kieckhaefer.