I found an aluminum tree in Washington County. Can you identify its location?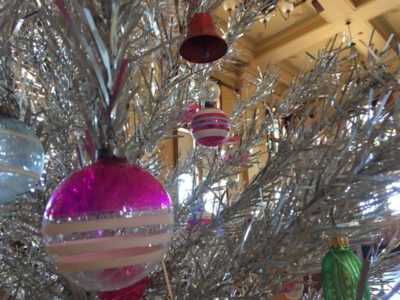 Dec. 15, 2016 – ??????, WI – There's a beautiful shiny silver aluminum tree in Washington County. Can you identify the location?
Do you know the history of the aluminum tree? WUWM reporter Susan Bence did a great story on the tree in 2013.
A portion of her article is below.
Evergleam aluminum Christmas trees were all the rage in the early 1960s. The Manitowoc-made trees were anything but natural – artsy, space-aged, jaw-dropping.  Today, the trees are seeing a rise in popularity – they're alive at an exhibit at the Wisconsin Historical Museum and are hot on eBay.
Curator Joseph Kapler's eyes gleam with pride as he looks at the centerpiece of the exhibit, a rare, pink Evergleam Christmas Tree. Some fetch prices as high as $1,800. Fewer pink trees were manufactured and became coveted thanks to a certain 1965 animated TV special.
"This is the tree that Lucy referenced in the Charlie Brown special; she wanted to get an aluminum tree, perhaps painted pink," Kapler says.
"Everything here that we're looking at we would collect and preserve; just like we do widgets and gadgets. wedding dresses and archival collections and furniture. This because it's a Wisconsin product. All these were made in Manitowoc, Wisconsin," he says.
Aluminum Specialties became the largest manufacturer of the trees; and at its peak – employed 750 people to make Christmas trees that evolved over time.
"They started out as straight needle and they added the pompom tips and then they did things like frosting the needles – basically crimping aluminum chaff," Kapler says.
According to Kapler, during the 60s, the aluminum tree evoked strong reactions – from distaste to delight. But he says the manufacturer did not set out to replace the traditional "live" Christmas tree.
Evergleams are fetching hefty prices these days on eBay. That could not have been said for the Moore family tree. He says he and his brother wore it out. Curator Joseph Kapler points out enclosed cases of surviving Evergleam artifacts. As much as the trees themselves, he covets their accessories and above all its packaging.
Jerry Waak vividly remembers the evolution of Evergleam. He was a regional salesman and later VP of marketing and sales for Aluminum Specialties.
"The company Aluminum Specialties always had Christmas parties for two customers – Montgomery Ward and Ben Franklin stores in Chicago. And the Christmas decoration buyer said to my boss, I've got to show you something," Waak says.
It was a large beautiful aluminum Christmas tree that came in a big box – like the bulky one on display at the Wisconsin Historical Museum.
"But it was very, very high priced – the four foot tree was $75; six foot was $100. This was 1958 and that was a lot of money," Waak says.
The buyer challenged Aluminum Specialties to get the price down and get it into a box that we put a display in our stores, customers can look at it, pick up a box and take it home. So this was two weeks before Christmas," Waak says.
He says their engineering team set to work and three months later had come up with four trees.
"Exactly what the buyer wanted and we took it to New York for the toy show. The first person I worked with was from Minneapolis, and it was a woman buyer and she loved it," Waak says.