Washington Co., WI – The Spring Primary is Feb. 21, 2023, and clerks in the Village of Jackson, Slinger, Hartford, and the Town of Kewaskum are among others in Washington County, WI holding in-person absentee voting.
Anyone who plans on voting in the February primary or the April 4, 2023 Spring Election can request an absentee ballot.
Voters can also stop at the clerk's office in their community and vote in-person absentee through 5 p.m. Friday, February 17, 2023 for the February 21 Spring Primary.
Information is available at the MyVote Wisconsin website.
Click HERE to SUBSCRIBE to FREE local news at
Voters will need to provide an acceptable photo ID and then supply your name, local address, and the address where the ballot should be mailed.
There are no primary contests in local races across Washington County, WI.
No municipal clerk should have drop boxes available. If a drop box is built into the buildings, there should be signage saying 'Do NOT place your absentee ballot in this drop box.'
According to the Washington County Clerk, people can (submit a ballot) for disabled people. It was September 7, 2022, when the Wisconsin Election Commission posted "Guidance on Absentee Ballot Return Options Under the Federal Voting Rights Act."
On the February 21, 2023 ballot will be a primary race for Justice of the Supreme Court. The two top vote getters will advance to the April 4, 2023 Spring Election.
The seat on the State Supreme Court opened in December 2021 following the announcement by Justice Patrice Roggensack, 82, that she would not seek another 10-year term. Her current term expires July 31, 2023.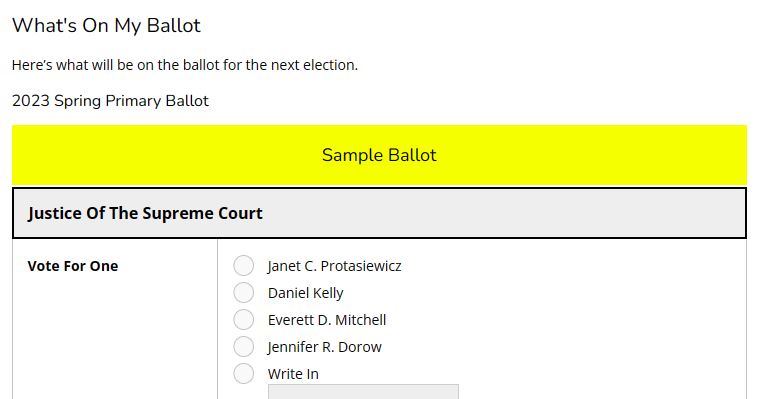 Polling Place Hours: Tuesday, February 21, 2023 7 a.m.  –  8 p.m.