March 17, 2023 – Germantown, WI – Chef Jodi Janisse-Kanzenbach, owner of The Precinct Tap & Table in Germantown and Barley Pop Pub, vividly remembers St. Patrick's Day three years ago. "It was the start of two weeks to bend the curve," she said. The date was March 17, 2020, and it was the busiest day for the tavern industry.
"The unspeakable happened three years ago; I'll never forget standing in the restaurant and at 2 p.m. I was told to close," said Janisse-Kanzenbach. "Two weeks to flatten the curve ended up being a year…."
"I definitely feel the effects are having ramifications on our industry and getting our staff back to work. Even after being shut down and years of restrictions, we have fewer employees now than ever…"
"Click HERE to SUBSCRIBE to FREE local news at
"Business wise there is no problem; people are still coming out, but I don't know where employees are," she said.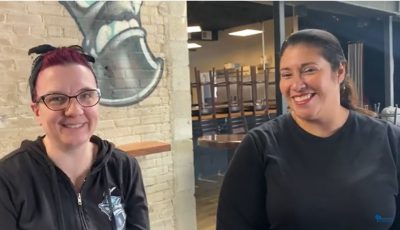 Janisse-Kanzenbach and her staff jumped through hoops and got wildly creative the past three years to make it work. During the height of restrictions, they offered meals to go, family meals, and The Precinct teamed with a request from American Construction Services to prepare 40 meals for senior citizens who were shut in and unable to exit their homes.
In an effort to deal with the current lack of people applying for jobs, Janisse-Kanzenbach and her crew are remaining nimble and pivoting, when need be, in order to make the best decisions possible.
"We're throwing around different ideas between both restaurants; how can we do this with the core crew that's here," she said.  "Whatever it takes to make things work."
"We want to make sure we're consistent and that we're giving great customer service," said Karina Demlow.
"I will never sacrifice quality of service or food; they go hand-in-hand. In a world where customer service seems to be disappearing, and cold corporate chain restaurants are prevalent, my staff and I strive to give the best experience to our patrons."
– Chef Jodi
We are HIRING! Join our team!
Bartenders:
• Looking for full and part time bartenders to work at both Barley Pop and Precinct
• Must be available nights and day plus weekends
• Pay negotiable plus tips
• Looking for someone wanting to work either in a fast-paced eclectic restaurant or your hometown bar.
•Experience preferred
Servers:
•Looking for experienced servers
•Must be available wed-sun nights and weekends.
•Must be able to multitask and upsell
•Positive attitude in fast paced environment
•Team player
Apply online: https://www.prec1nct.com/jobs or https://www.barley-pop.com/jobs
Janisse-Kanzenbach said they are hiring servers and bartenders; they pay competitive wages and there is good money to be made on tips. A hostess can start at 14 or 15 years of age, and bartenders need to be at least 18.
"Come and join us at the Precinct and Barley Pop in Germantown and apply for a job and help us get back to normal," said Janisse-Kanzenbach.