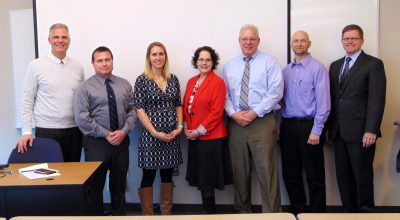 April 5, 2017 – West Bend, WI – School district administrators from West Bend, Hartford, Kewaskum, and Slinger met at Moraine Park Technical College this week to discuss implementation of a new program for high school students called Inspire Washington County.
Inspire Washington County is an innovative cross-sector partnership that unites educators and employers to address career- and life-ready skills gaps, establish a talent pipeline for local businesses, and build awareness of career and employment opportunities in Washington County.
The program is designed to:
Facilitate career mentoring options between businesses and schools
Coordinate high-impact career-based learning opportunities with business partners
Assist with developing county-wide standards for work- and life-ready skills
Integrate employer profiles with students' academic and career planning efforts
The Inspire program will integrate with Career Cruising software currently being used at local high schools.
Partner school districts plan to start training their staff on the Inspire web platform this summer so students can start making business connections through Inspire Washington County in the fall.
"I think this is an awesome relationship and it's going to be something really special," said Jim Smasal, Superintendent of the Kewaskum School District. "Giving students these experiences prior to graduating from high school will help them make effective career and post-secondary educational plans."
The program's staff was also introduced during the meeting. Nikki Kiss is Inspire Washington County's Director of Educational Partnerships and Sarah Malchow will serve as Director of Business Development.
Inspire Washington County is funded by United Way of Washington County and charter investors including Broan-NuTone, Commerce State Bank, Hartford Finishing, Kerry, Legendary Whitetails, Maysteel, Quad/Graphics, Server Products, Signicast, Sno-Way, and Steel Craft.
Pictured left to right: Daren Sievers, Slinger School District; Pete Rettler, Moraine Park Technical College; Nikki Kiss, Inspire Washington County; Sarah Malchow, United Way of Washington County; Jim Smasal, Kewaskum School District; Jon Duhr, Hartford Union High School District; Erik Olson, West Bend School District.