West Bend, WI – There was a special presentation by members of the West Bend Noon Kiwanis Club as it gifted an iPad for Autism to Fisher Champagne, 17, of West Bend.
Ron Tabat has been heading the local iPad for Autism effort since 2013.
"Over the last eight years we have awarded 18 iPads to children in West Bend, Hartford, and Slinger," said Tabat. "Each time we have provided an iPad to children suffering Autism it has been a rewarding experience and a life-changing experience for the child."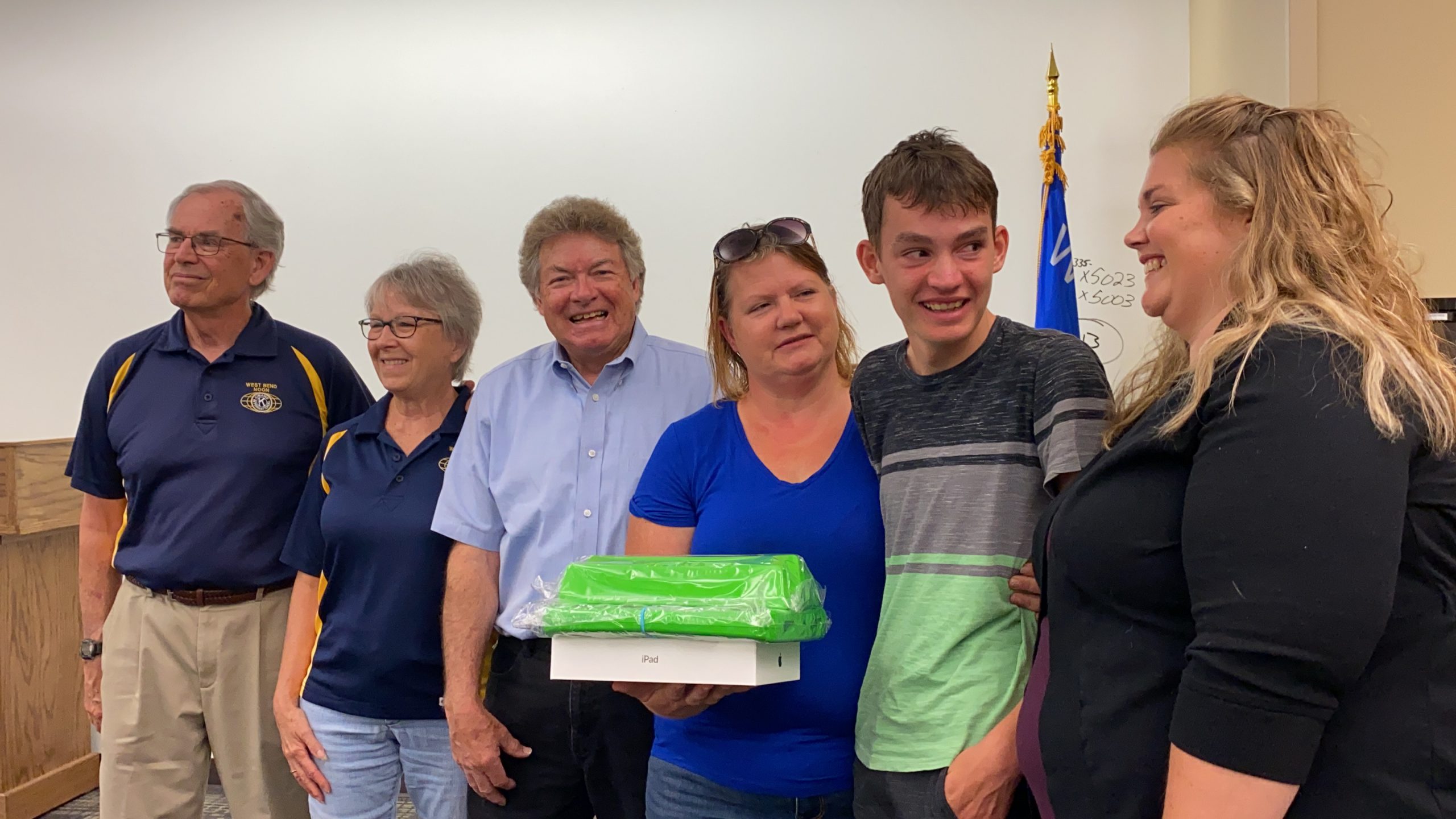 Kiwanis Club members Cindie Pitz and Tom Bergerud participated in the presentation.  "I'm very excited to be part of the program for this club," said Bergerud.
Fisher is a junior at the West Bend High School. His teacher Michelle Singh said the iPad will help advance his communication skills. "Fisher has limited verbal skills and we're hoping the iPad will help him get his thoughts across to us," she said.
The iPad includes communication and sensory apps. "We use it a lot for scheduling, communication and he has sensory-break activity and likes the sand and music tools," said Singh. "This gift from the Kiwanis is amazing."
Fisher's mother Kristin DeGueme said when she learned about the iPad for Autism program it gave her hope.
"Fisher is really into music and it is very good therapy. With the iPad he will be able to have that with him," she said. "There's also communication apps and he has interests in street signs and to be able to take the iPad with us when we're out in the community it will help keep him calm and regulated while still learning and that is awesome."
The West Bend Noon Kiwanis host two fundraisers each year to support local non-profits and children in the community.
On September 14, 2021 the Noon Kiwanis will host Steak in the Park at Regner Park. Click HERE for more details.