July 4, 2020 – West Bend, WI – It was 2014 when West Bend lost its Dairy Queen stores and now the franchise famous for its Blizzards and Dilly Bars maybe coming back to town.
"I am doing diligence on returning DQ to West Bend," said Kevin Scheunemann, owner of the DQ's in Kewaskum and Jackson.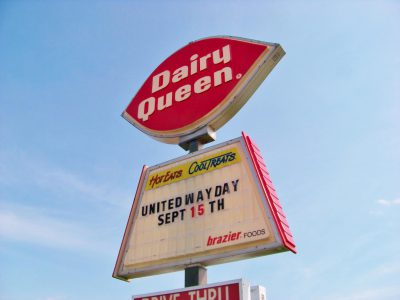 "I have applied for the DQ franchise for West Bend with International Dairy Queen, and I am working with International Dairy Queen to find a site that meets both our expectations.
"I did review potential sites last week with a representative of International Dairy Queen."
Scheunemann cannot reveal the potential sites in West Bend but said he is actively looking. "If we find a location suitable for all parties involved and get approval for the project from the City of West Bend, our hope is to be open nine months from that point in time," he said.
"DQ has a long, rich, heritage and history in West Bend and are excited to bring forward the day we can restore that storied West Bend DQ  heritage with a new, modern, and fresh, DQ Grill and Chill 3.0 Design."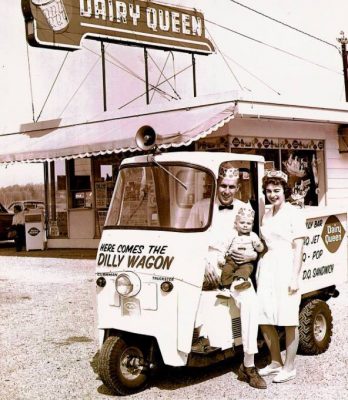 History of DQ in West Bend
There is a certain charm to the history of the locally-owned Dairy Queens in West Bend. All the DQ's have ties to the Jerry and Nancy Mehring family.  Jerry and his brother Richard took over their first DQ in West Bend in 1956 when they started leasing the store at the bottom of Barton Hill. The second store on South Main Street went up in 1968 and the third on West Washington Street was built in 1985.
The Mehring's built the store on the southwest corner of Main and Vine in 1967. "It was an empty lot owned by Shell Oil with plans to open a gas station," Jerry Mehring said. "Shell changed their mind and put the lot up for sale and with the advice of our attorney, Clyde Schloemer, we purchased the lot from Shell Oil."
Mehring said, "There was an additional 25-foot strip to the west, which the city had set aside for an alley. Later the city abandoned it and we purchased it from the Diel's family."
In the mid-1970s the Mehrings added a side dining room and the Brazier food line. "After that we added the front dining room and drive thru-window. It was the first drive-thru in West Bend," he said.
In February 2014 Jerry and Nancy Mehring reflected on the news their restaurants in West Bend were closing.
AROUND THE BEND       February 22, 2014                                        By JUDY STEFFES
Jerry and Nancy Mehring react to DQ closings
It has been about a month since news hit in West Bend that the Dairy Queen stores were closing. Many expressed concerns but also wondered how former DQ owners Nancy and Jerry Mehring were fairing.
"The news was obviously devastating," said Jerry Mehring during a one-on-one interview with his wife Nancy at his side.
"The customers and the people we met and worked with were the best in the world," said Nancy.
The Mehring's initially heard the news via a friend. "I had to sit down because of the shock," said Jerry. "That's 60 years of Dairy Queen in West Bend we're talking about."
Over the past few weeks, the Mehrings have been flooded with calls and notes of thanks.
"We've had a lot of calls from friends, relatives and former employees," said Jerry. "We had one guy who had done work for Dan (Schuster) and wanted to know if there was anything, he could do to help keep it going," said Mehring of Bob Schumacher.
The Mehrings shared an email from DQ owners Dan and Ashley Schuster. It talked about the High School swim team that came in every Tuesday night stopping before the store closed on S. Main and asking how much was needed to save the store. When Dan told them, their eyes got wide and the captain said, "Wow! We were all going to chip in $20, but I guess that won't work," said Jerry.
The email continued saying the team bought ice cream for all the employees at the store to thank them for all the "fun nights we've had here."
Ashley Schuster said another girl down the street who is in K5 took up a 'save DQ' collection.
"She searched her couch cushions, emptied her purse and even went through all her personal belongings to see what she would be willing to sell to save the stores," said Schuster. "That included her Nintendo DS! What a sweetheart."
Nancy Mehring, who often volunteers as a greeter with her husband at Holy Angels Church, said the news has been a big test of faith. "It was about a week of praying and crying," said Nancy. "We had a lot of emails of support and my son kept saying 'when God closes a door, he opens a window' so we're hanging in there."
The Mehrings will both be 75 years old this summer (2014). "We'd gladly go back and work at the Dairy Queen if we felt there was any chance. We sincerely thank all the community for their support and friendship," said Nancy.
Last Monday the keys to both businesses were turned over to the bank. Although there has been a lot of scuttlebutt in the community regarding the future of the buildings no sale of the properties has been confirmed.
Previous DQ in West Bend timeline:
-July 19, 2014 West Bend Dairy Queens were sold at a sheriff's auction. Both restaurants, 501 Wildwood Road and 1200 S. Main St., owned by Dan and Ashley Schuster, closed in 2014. The opening bid for the store on South Main started at $550,000 and sold for $550,001 to a pair of investors from out of town. The store on the west side of town on S. Main Street had an opening bid of $220,000. There were no other offers.
– The DQ on S. Main Street was razed June 23, 2015. A Panda Express was built in its space on the southwest corner of Main and Vine Street.
– Samet Fejzuli purchased the former DQ property at 501 Wildwood Road in May 2015; the parcel had been in foreclosure since January 2014. Two short years later Fejzuli closed Mother's Day in October 2017.  Don Ramon Mexican Restaurant opened in the summer of 2018.